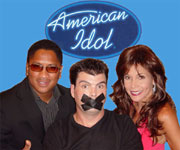 The winter Olympics proved no match for television's gold-medal winner, "American Idol."
The winter Olympics proved no match for television's gold-medal winner, "American Idol." Fox's phenomenally successful contest crushed the Olympics in head-to-head competition on Tuesday night, 27 million viewers to 16.1 million, according to Nielsen Media Research.
The Olympics recovered a bit after "Idol" went off the air, but its overall audience of 18.6 million was the least-watched winter Olympics telecast since Nagano's closing ceremonies in 1998, Nielsen said.
Since its opening on Friday, the Turin games have been running well below the 2002 Salt Lake City games in viewership interest. Much of that was expected, but Tuesday's rating was the first alarming sign for NBC that increased TV competition hastaken atoll.

"The competition from `Idol' is heavier than the Olympics has ever seen," said NBC Sports spokeswoman Alana Russo.
It doesn't figure to get any easier, with "Idol" and ABC's "Lost" on the air Wednesday. CBS' "Survivor" and "CSI: Crime Scene Investigation" offer more competition on Thursday.
Even figure skating, the most popular winter Olympics sport for viewers, didn't help much on Tuesday. NBC filled about two-thirds of the hour during which it competed with "American Idol" with tape of the men's figure-skating competition.
Through five nights of Olympics coverage, NBC's average prime-time rating is 12.7 (a rating point represents 1,102,000 households, or 1 percent of the nation's estimated 110.2 million TV homes). NBC said before the games started that it had promised its advertisers a rating of between 12 and 14. If it slips below that, NBC will have tomake it up toadvertisers with free commercial time.
"`American Idol' is clearly a phenomenon," said Randy Falco, president of the NBC Universal Television Group. "But we expected it and are tracking right where we planned to be at this point."
Between NBC and its affiliated cable networks, an estimated 65 percent of the nation's television homes havetuned inat least some of the games, Falco said.

(Agencies)
事实证明冬奥会在美国的收视率无法与电视收视冠军《美国偶像》抗衡。尼尔森媒体研究机构称,上周二晚,福克斯电视网的当红选秀比赛《美国偶像》的收视率击败了同期直播的冬奥会节目,观众人数分别是2700万和1600万。

尼尔森称,《美国偶像》结束后,冬奥会的收视人数随即有所增加,但也只有1860万人,是1998年长野冬奥会闭幕式以来最低的收视数字。
都灵冬奥会自2月10日开幕以来,收视率明显低于2002年盐湖城冬奥会。这种状况早有所预料,但上周二的收视率第一次给NBC电视网拉响了警报,日益激烈的收视率大战对NBC造成了严重的影响。
NBC体育节目发言人艾伦·拉索说:"《美国偶像》是冬奥会迄今为止遇到的最强大的竞争对手。"
星期三因为《美国偶像》和ABC电视网的电视剧《迷失》的播出,冬奥会的收视率也好不到哪去。星期四,CBS电视网播放的《幸存者》和《犯罪现场鉴证》将给冬奥会带来更大的收视竞争。
星期二的时候,观众最爱看的冬奥会项目花样滑冰,也没贡献多少收视率。在福克斯播放《美国偶像》的同时,NBC有三分之二的时间在播放男子花样滑冰录像。
冬奥会开幕5天以来,NBC黄金时间的收视率是12.7(这表示有110.2万个家庭,即1.102亿个有电视家庭的1%的人在收看电视节目)。NBC称,在冬奥会开幕之前,他们向广告商许诺收视率会在12%到14%之间,如果收视率下降低于这个标准,他们将提供给广告商免费广告时间作为补偿。
NBC国际电视公司总裁兰迪·法尔科说:"《美国偶像》真是个奇迹,但是我也预计到了,我们现在正在按照计划进行。"
法尔科说,估计有65%的看电视家庭通过NBC和其附属有线电视网收看了至少一部分奥运会比赛。

(中国日报网站编译)