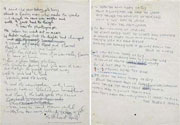 Manuscript of A Day in the Life.
John Lennon's original draft of lyrics to the groundbreaking Beatles song A Day in the Life has gone on sale.
The manuscript, being sold in New York in asealed-bid auctionending 7 March, is expected to fetch about $2m, auction house Bonhams said.
Lennon wrote the song after reading about the death of his friend, Guinness heir Tara Browne, in the Daily Mail on 17 January 1967.
It became the final track on the Sgt Pepper's Lonely Hearts Club Band album.
The manuscript was last sold in 1992 by the estate of Beatlesroad managerMal Evans for $100,000, in London, to an unknown collector.
Lennon's handwritten lyric sheet for the Beatles' 1967 live satellite broadcast of All You Need is Love sold in July last year for $1.04m.
Martin Gammon, of Bonhams, said the sale price could be $2m "based on market history".
This would make it the most valuable musical manuscript composed in the 20th Century to be offered at auction, he added.
The song, considered to be one of The Beatles' finest, begins "I read the news today, oh boy" and was famously inspired by the copy of the Daily Mail, which included reports of the coroner's verdict on the death of Tara Browne.
The millionaire was killed in a car crash after driving at high speed through London. It led to the line: "He blew his mind out in a car, he didn't notice that the lights had changed."
A study showing that the streets of Blackburn had 4,000 potholes was also immortalised by the lyrics: "I read the news today, oh boy, 4,000 holes in Blackburn, Lancashire."
Paul McCartney added the middle section, including the line: "Found my way upstairs and had a smoke, somebody spoke and I went into a dream."
The Beatles split three years later in 1970 and in 1980 Lennon was shot dead in New York, aged 40, by Mark David Chapman. 

(Agencies)
约翰·列侬《生命中的一天》亲笔歌词手稿近日被拍卖,这首歌曲是披头士乐队具有里程碑意义的一首作品。
据邦汉姆拍卖行介绍,歌词手稿在纽约被密封拍卖,拍卖将持续到3月7日。成交价格预计会达到200万美元左右。
1967年1月17日,列侬在《每日邮报》上看到他的朋友塔拉·布朗尼(爱尔兰著名酿酒商Guinness的后代)的死讯后,创作了这首歌曲。
这首作品是专辑《佩珀中士的孤独之心俱乐部乐队》中的最后一个曲子。
歌词手稿曾在1992年被披头士领队麦尔·伊万斯以10万美元的价格卖给了伦敦一个不知名的收藏家。
列侬创作的歌曲《你需要的就是爱》歌词手稿在去年7月以104万美元被卖出, 1967年,披头士在一次现场卫星直播节目中演唱了这首歌。
邦汉姆拍卖行的马丁·盖蒙说,按照这个市场行情,这次拍卖的成交价格达到200万美元不成问题。
他说,这样一来,在所有被拍卖的20世纪创作的歌词手稿中,《生命中的一天》将成为最有价值的一首。
这首歌被视为披头士乐队的经典之作之一,歌曲开头写到"今天我看了报纸,噢,天哪",歌词创作受到《每日邮报》的启发,报纸上刊登了塔拉·布朗尼的验尸报告。
这个百万富翁超速驾车穿越伦敦城,结果在车祸中丧身。歌词这样写道:"这个人在车内神智不清,他没有注意到红绿灯信号已经换了。"
有一项调查显示布莱克伯恩市街道上的坑多达4000个,结果这也被写进了歌词,"今天我看了报纸,噢,天哪。兰开夏布莱克伯恩大街上的坑有4000个。"
鲍尔·麦克卡特尼填写了歌词的中间部分,其中有这样一句:"走到楼上,抽了根烟,有个人在说话,我进入了梦乡。"
3年后,也就是1970年,披头士乐队解散,1980年,列侬在纽约被枪杀,年仅40岁。凶手是马克·大卫·查普曼。

(中国日报网站编译)