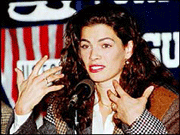 After the attack Nancy Kerrigan fell to the ground sobbing "Why me?"
1994: Mystery assailant attacks top US skater
England have
An unknown manbrandishinga metal crowbar has attacked American figure-skater Nancy Kerrigan.
The 24-year-old skater was forced to withdraw from the US national championships in Detroit after the incident, which left her with severe bruising to her right knee.
The competition was expected to decide who would represent the United States in the forthcoming winter Olympics in Lillehammer, Norway, next month. But that now hangs in the balance.
Normally the top two finishers in these championships would qualify for the Olympics, although the US Figure Skating Association does have some discretion in the electoral process.
The attack happened as Ms Kerrigan, who won a bronze medal in the 1992 Olympics, was leaving the ice after a practice session at Cobo Hall, Detroit.
An eye-witness said: "Before she could say anything, a guy ran by, crouched down, whacked her on the knee and kept running.
"Nancy just dropped and started screaming and sobbing."
Ms Kerrigan's agent, Jerry Solomon said: "Nancy sustained quite a blow, physically and mentally.
"This could really affect her mental approach which is so important on the ice."
Police investigating the incident have been told by witnesses that the attacker had been video-taping Ms Kerrigan as she skated before he struck.
It is understood that he was wearing official credentials around his neck but detectives still have no identification.
The attack comes just eight months after tennis player Monica Seles was stabbed by a spectator with a kitchen knife as she played on a court in Hamburg, Germany.