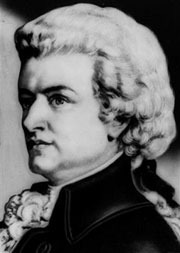 This is an undated portrait of Wolfgang Amadeus Mozart.
Have scientists found Mozart's skull?

Researchers said Tuesday they will reveal the results of DNA tests in a documentary film airing this weekend on Austrian television as part of a year of celebratory events marking the composer's 250th birthday.
The tests were conducted last year by experts at the Institute for Forensic Medicine in the alpine city of Innsbruck, and the long-awaited results will be publicized in "Mozart: The Search for Evidence," to be screened Sunday.
Past tests were inconclusive, but this time, "we succeeded in getting a clear result," lead researcher Dr. Walther Parson, a renowned forensic pathologist said. He said the results were "100 percent verified" by a U.S. Army laboratory, but refused to elaborate.
The skull in question is one that for more than a century has been in the possession of the International Mozarteum Foundation in Salzburg, the elegant Austrian city where Wolfgang Amadeus Mozart was born on Jan. 27, 1756.
Parson said genetic material from scrapings from the skull was analyzed and compared to DNA samples gathered in 2004 from the thigh bones of Mozart's maternal grandmother and a niece. The bones were recovered when a Mozart family grave was opened in 2004 at Salzburg's Sebastian Cemetery.
Mozart died in 1791 and was buried in a pauper's grave at Vienna's St. Mark's Cemetery. The location of the grave was initially unknown, but its likely location was determined in 1855.
The skull - which is missing its lower jaw - came to the Mozarteum in Salzburg in 1902, according to Dr. Stephan Pauly, the foundation's director.
The foundation, a private nonprofit organization that works to preserve Mozart's legacy, was founded in 1880 by Salzburg residents and made the skull available for the DNA tests.
The skull long has fascinated experts: In 1991, a French scholar who examined it made the startling - though unconfirmed - conclusion that Mozart may have died ofcomplicationsof a head injury rather than rheumatic fever as most historians believe.
Anthropologist Pierre-Francois Puech of the University of Provence based his belief on a fracture he found on the skull's left temple. Mozart, he theorized, may have sustained it in a fall, and that would help explain the severe headaches the composer was said to have suffered more than a year before his death.
Austria has designated 2006 a Mozart jubilee year, with dozens of events in Salzburg, Vienna and elsewhere to commemorate his 250 birthday.

(Agencies)
科学家们已经找到了莫扎特的头骨吗?
本周二,有关研究人员表示,他们将于本周末在奥地利电视台播出的一个记录片中公布DNA测试结果,这也是纪念作曲家莫扎特诞辰250周年庆祝活动的一个重要内容。
这项DNA测试是"阿尔卑斯山城"因斯布鲁克一个法医学研究所的专家们在去年做的。期待已久的测试结果将在本周日播出的记录片《莫扎特:揭开头骨之谜》中揭晓。
之前所做的一些实验都没有得出决定性的结论,但这次测试的带头人著名法医病理学家沃尔瑟·帕森说:"我们终于使'真相'浮出水面"。他说,此项出自美国军队实验室的测试结果可以说是100%的可靠。但是他拒绝做进一步的解释。
这块未被验明"真身"的头骨一直被收藏在萨尔茨堡的国际莫扎特基金会中,已有一个世纪之久。萨尔茨堡是奥地利一个风景如画的城市,1756年1月27日,沃尔夫冈·阿玛迪亚斯·莫扎特就出生在这里。
帕森说,他们首先分析了从头骨上刮下的碎屑中的遗传物质,之后将分析结果与已有的DNA样本进行对比,已有的DNA样本是2004年从莫扎特的外祖母和侄女的大腿骨上提取的。2004年,位于萨尔茨堡塞巴斯蒂安墓地的莫扎特家族墓穴被打开,这几块用作实验的骨头便由此获得。
莫扎特于1791年逝世,当时他被埋在维也纳圣马克墓地的一个贫民坟墓里。最初没有人知道莫扎特到底被埋在哪里,直到1855年,坟墓的大体位置才被确定。
据基金会负责人史蒂芬·鲍里介绍,这块缺了下颌的头骨于1902年来到萨尔茨堡的莫扎特基金会。
国际莫扎特基金会是一个非盈利性的私人组织,由萨尔茨堡当地居民成立于1880年,其主要目的是为了保存莫扎特遗物,DNA测试所用的头骨就是由它提供的。
莫扎特头骨引起了很多专家们的兴趣。1991年,一位法国学者对这块头骨进行了研究,并得出了一个惊人的结论:莫扎特可能死于由头部受伤引起的并发症,而并非大多数历史学家所认为的风湿热。但这个结论最终没有得到证实。
普罗旺斯大学的人类学家皮埃尔·弗兰科斯在莫扎特头骨的左太阳穴上发现了一条裂缝,由此,他推断,这可能是由莫扎特摔跤所致,同时,这也为莫扎特逝世前困扰他一年多的严重头痛病提供了解释。
奥地利指定2006年为"莫扎特年",萨尔茨堡、维也纳和其他各地都将举行各种庆祝活动,以纪念莫扎特的250周年诞辰。

(中国日报网站编译)