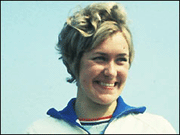 Lillian Board won several medals at international level

1970: 'Golden girl' of British athletics dies

Artificially 1969:
The British Olympic medallist Lillian Board MBE has died after losing her battle against a virulent form of cancer.

Miss Board, who turned 22 on 13 December, died at the Munich University Hospital today, where she was undergoing treatment for Crohn's Disease, an inflammation of the intestine.

The athlete's doctor Dr Josef Issels said Miss Board died after a "terrible series of complications".

She entered his controversial clinic in the Bavarian Mountains on 7 November but after a series of setbacks she was transferred five days ago to the hospital in Munich, West Germany.

There she underwent surgery to relieve an intestinal blockage, the third such operation she had had, but she deteriorated shortly afterwards.

The twice European Gold medallist and Olympic silver medallist who set three world records on the track, died late in the afternoon after she slipped into a coma on Christmas Eve.

Parents George and Francis, her twin sister Irene and her brother George were at her bedside.

Tributes have been flooding in for Miss Board.

The Queen and Prince Philip and Prime Minister Edward Heath are among those who have sent private messages of sympathy to Miss Board's family.

Miss Board ran her final race in June over 800 metres in the Women's AAA Championship at London's Crystal Palace.

Pains forced her to withdraw from Britain's squad for the Commonwealth Games in Edinburgh and tests revealed her illness.

In 1967 she strode from fourth to first position in Los Angeles for the British Commonwealth to beat the world record holder Judy Bullock over 400 metres.

In the Mexico Olympics in 1968 she was pipped to the winning line in the 400m race by Colette Besson of France, despite recording a British record time of 52.12 seconds.

In 1969, she won the European 800m title as well as anchoring the 4x400 metres relay to a thrilling victory over France against Miss Beeson.

Both teams were credited with a world record time of 3:30.8.

Miss Board was awarded an MBE this year for her contribution to sport.