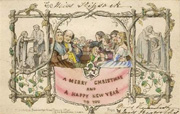 This undated handout photo issued by Henry Aldridge & Son auction house, Saturday Dec. 3, 2005, shows a 162-year-old Christmas card, one of the first commercial cards produced for the season. The card was sold at auction in Devizes, England on Saturday Dec. 3, 2005 for 8,800 pounds (US$16,000; 13,000 euros).
A 162-year-old Christmas card - one of the first ever printed - sold at auction for $16,000.
The hand-colored card, which shows a family celebrating around a table, is one of about 10 surviving from an original batch of 1,000 printed in 1843, auctioneer Henry Aldridge said.
The cards were commissioned by Sir Henry Cole, a Londoner who is generally recognized as the inventor of the commercial Christmas card.
The card was bought at the auction in the town of Devizes in southern England by Jakki Brown, editor and co-owner of "Progressive Greetings" magazine and general secretary of the Greeting Card Association.
Aldridge said he was "pleased with the price and that the card is staying in this country within the greetings card industry."
The card was originally sent to a Miss Mary Tripsack, a close friend of the poet Elizabeth Barrett Browning.
"We don't know who sent it to Miss Tripsack. We can only assume that they must have been of means, as cards were a novelty at the time," Aldridge said.
John Calcott Horsley, a British painter, designed the card for Cole, who was the first director of London's Victoria and Albert Museum.
Cole printed 1,000 of the cards on alithographstone before having them hand-colored.
The card drew some criticism from Victorians because it shows some members of the family enjoying a glass of wine, but that did not keep the practice of sending cards from catching on.
Although wood engravers produced prints with religious themes in Europe in the Middle Ages, the first commercial Christmas and New Year's cards are believed to have been produced by Cole in 1843.
(Agencies)
一张162岁"高龄"的圣诞卡以1.6万美元的价格被拍卖,它是世界上最早印刷的圣诞卡之一。
这张圣诞卡为手工着色,画面描绘的是一家人围着一张桌子欢庆圣诞的景象。据负责此次拍卖活动的亨利·奥尔德里奇介绍,这张卡印制于1843年,当时这批圣诞卡共印制了1000张,而幸存至今的只有10张。
这些卡是由伦敦人亨利·科尔爵士委托画家所作,他是公认的商业圣诞卡的创始人。
这张圣诞卡在英国南部小镇德维泽斯被拍卖,买家名叫杰基·布朗。杰基·布朗是《问候不断》杂志的合伙人兼编辑,同时他还是贺卡协会的秘书长。
奥尔德里奇说,圣诞卡能以高价卖出,而且还能留在本国的贺卡圈内,实在是令人欣慰的事。
这张古老的圣诞卡最初是寄给诗人伊丽莎白·巴利特·勃朗宁的密友玛丽·切萨克小姐的。
奥尔德里奇说,"我们不知道是谁将它寄给了玛丽·切萨克小姐。只能认为,在当时贺卡是富有的一种象征,因为在那个年代,贺卡是很新奇的事物。"
英国画家约翰·卡尔考特·霍斯利为科尔设计了卡片,科尔是伦敦维多利亚和阿尔伯特博物馆的首任馆长。
科尔随即用石版印刷了1000张,之后又让人给这些卡手工着色。
当时有些维多利亚人对这张卡颇有微词,他们说这张圣诞卡描绘的是一家人在一起喝一杯酒,但是这并没有阻止送贺卡成为时尚。
尽管以宗教为主题的木制雕刻中世纪时已在欧洲出现,但是第一张商业圣诞卡和新年卡被公认为1843年诞生于科尔之手。

(中国日报网站编译)