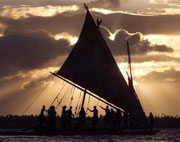 A 42-foot traditional Tongan boat is seen near the tiny island states of Tonga and Kiribati in the Western Pacific.
Rising seas have forced 100 people on a Pacific island to move to higher ground in what may be the first example of a village formally displaced because of modern global warming, a U.N. report said on Monday.
With coconut palms on the coast already standing in water, inhabitants in the Lateu settlement on Tegua island in Vanuatu started dismantling their wooden homes in August and moved about 600 yards (meters) inland.
"They could no longer live on the coast," Taito Nakalevu, a climate change expert at the Secretariat of the Pacific Regional Environment Programme, said during a 189-nation conference in Montreal on ways to fight climate change.
So-called "king tides," often whipped up by cyclones, had become stronger in recent years and made Lateu uninhabitable by flooding the village 4 to 5 times a year. "We are seeing king tides across the region flooding islands," he said.
The U.N. Environment Programme (UNEP) said in a statement that the Lateu settlement "has become one of, if not the first, to be formally moved out of harm's way as a result of climate change."
The scientific panel that advises the United Nations projects that seas could rise by almost 3 feet (a meter) by 2100 because of melting icecaps and warming linked to a build-up of heat-trapping gases emitted by burning fossil fuels in power plants, factories and autos.
Many other coastal communities are vulnerable to rising seas, such as the U.S. city of New Orleans, the Italian city of Venice or settlements in the Arctic where a thawing of sea ice has exposed coasts to erosion by the waves.
Pacific Islanders, many living on coral atolls, are among those most at risk. Off Papua New Guinea, about 2,000 people on the Cantaret Islands are planning to move to nearby Bougainville island, four hours' boat ride to the southwest.
Two uninhabited Kiribati islands, Tebua Tarawa and Abanuea, disappeared underwater in 1999.
"In Tegua, the dwellings are moving first. The chief has moved, he has to start the process, so his people are now following," Nakalevu said. A church would also be dismantled and moved inland.
Nakalevu said the rising seas seemed linked to climate change. It was unknown if the coral base of the island, about 12 square miles, might be subsiding. Most villagers rely on yams, beans and other crops grown on higher ground.
本周一,联合国的一份报告称,由于海面不断上升,太平洋一个岛屿上的100个居民不得不搬迁到地势更高的地方去,这可能是目前全球气候变暖所导致的第一例正式"迁村"事件。
瓦努阿图国境内的特卡岛拉陶村居民从今年8月份起就开始拆除木造房屋,往内陆迁移600米,因为原本生长在岸边的棕榈树已经被海水淹了。
太平洋地区环境计划秘书处气候变迁专家泰图·纳凯伍在蒙特利尔气候变迁会议上说,"他们不能继续生活在沿海地区了。"共有189个国家参加了这次会议。
由飓风引起的"霸王潮"近年来变得越来越猛烈,每年会给拉陶村造成四五次洪灾,拉陶村已经不再适合居住。纳凯伍说:"我们看到'霸王潮'正不断淹没岛屿。"
联合国环境规划属在一个声明中提到,拉陶村"如果不是第一个,也是因气候变暖而被正式迁移的村庄之一。"
科学家预测,到2001年,由于冰雪融化和全球变暖,海平面可能会上升近1米。这跟发电站、工厂以及汽车等消耗汽油排放的温室气体不断增加有直接关系。
还有很多其他的海边居住区正受到海水上升的威胁,比如,美国的新奥尔良城,意大利的威尼斯,以及北极的一些居住区,由于海冰的融化,海岸暴露出来,不断受到海浪侵蚀。
太平洋岛屿上的居民有很多住在珊瑚礁岛上,他们面临的危险是最大的。巴布亚新几内亚湾堪他利特岛上的约2000个居民正筹划着搬往附近的布干维尔岛,那里距离西南部乘船需要4个小时。
基里巴斯国的两个无人岛特布·塔拉瓦和阿巴尼亚在1999年被海水淹没,已经消失了。
纳伍凯说,"特卡岛的居民首先要搬家。首领已经搬走了,他必须带动大家一起搬走。"这里的一所教堂也将被拆迁到内陆去。
纳伍凯说,"海平面的不断上升是由气候变化引起的。至于岛上的约12平方公里珊瑚礁岛是否会下沉,目前还不知道。这里的大多数村民主要以吃洋芋、豆子和种在地势较高地区的一些其他的谷物为生。"

 
(中国日报网站编译)