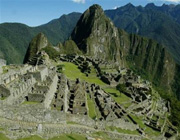 A view of the Inca citadel of Machu Picchu in Cuzco in this November, 2003 file photo.
Peru plans to sue Yale University for the return of 4,900 artifacts taken from Machu Picchu, the fabled Inca citadel, by a U.S. explorer nearly a century ago, the government said on Thursday.
Peru's National Culture Institute, or INC, said the artifacts, which include Incaceramics, cloths, metalwork and human bones, were lent to Yale for 18 months in 1916, but the New Haven, Connecticut, university has made them part of its collection.
"Unfortunately, this has to be resolved via the courts because Yale claims ownership and doesn't want to give these artifacts back," INC Director Luis Lumbreras told reporters.
"We're not talking about ancient masterpieces, but they are emblematic of Peruvian culture and by law we are required to seek their return," Lumbreras said, adding Peru still had the 1916 loan document.
Officials from Yale's anthropology department were not immediately available for comment. The university has argued it is the legal owner of the artifacts and allows thousands of people to view them every year, inspiring many to visit Machu Picchu.
Lumbreras said the lawsuit would be filed in Connecticut state court in the next few months, but a higher, international tribunal may make the final decision.
Peru was seeking to retrieve the artifacts now because it aimed to put them on public display in 2011 for the centenary of Machu Picchu's rediscovery by U.S. explorer Hiram Bingham.
Bingham, a Yale alumni, found Machu Picchu in the southern Andes under thick forest in 1911.
Machu Picchu was probably the sanctuary of Inca Emperor Pachacutec and lay at the heart of the Inca empire, which dominated South America from Colombia to Chile until beingtoppledby Spanish conquerors in the 1530s.

(Agencies)
秘鲁政府上周四表示,秘鲁正打算将美国耶鲁大学告上法庭,要求其归还近一个世纪之前一位美国探险家从传说中的印加帝国城堡马丘比丘拿走的4900件文物。
秘鲁国家文化中心表示被拿走的文物包括印加陶器、布料、金属制品和人骨。1916年,这些东西暂时借给耶鲁大学保存18个月,但是位于美国康涅狄格州纽黑文市的耶鲁大学却将其作为自己收藏品的一部分。
秘鲁国家文化中心主任路易斯·伦布雷拉斯告诉记者说:"不幸的是,耶鲁大学将这些文物视为他们的财产,不肯归还,因此我们必须对簿公堂。"
伦布雷拉斯说:"我们不是在讨论一些古代的工艺品,它们是秘鲁文化的象征,而且依照法律规定,我们应该把它们要回来。"他还补充说秘鲁至今保留着1916年的借条。
耶鲁大学人类学院的官员们没有立即对此事发表评论。耶鲁大学方面称自己是这些文物的合法拥有者,每年都有成千上万游客前来参观,这些文物激起了他们参观马丘比丘的兴趣。
路易斯透露,秘鲁方面在未来几个月中将会向美国康涅狄格州法院提起诉讼,但是最终将由一个更高级别的国际法庭进行判决。
秘鲁之所以现在想要收回这些文物是因为他们想在2011年美国探险家海勒姆·宾厄姆发现马丘比丘一百年纪念的时候公开展出这些文物。
宾厄姆是耶鲁大学的校友。1911年,他在安第斯山脉南部茂密的森林中发现了马丘比丘。
位于印加帝国心脏地带的马丘比丘可能是印加帝国统治者帕查库特克的度假胜地。印加帝国曾经控制着南美从哥伦比亚到智利的广大地区,直到16世纪30年代南美洲被西班牙人占领,印加帝国也随之覆灭。
(中国日报网站编译)