Prosecutor: Moussaoui's lies led to 9/11
(AP)
Updated: 2006-03-07 07:25
Opening its argument that Zacarias Moussaoui be executed, the US government asserted Monday that he "did his part as a loyal al-Qaida soldier" and caused the deaths of nearly 3,000 people by failing to tell what he knew of the Sept. 11, 2001, attacks.
Moussaoui's defense countered that his dreams of being a terrorist were far removed from anything he could actually do, and that he had no part in the attacks. "That is Zacarias Moussaoui in a nutshell," said his court-appointed lawyer Edward MacMahon. "Sound and fury signifying nothing."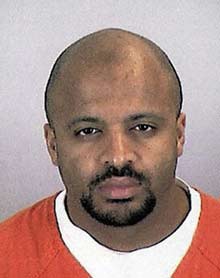 A file photo of Zacarias Moussaoui [AFP]

As Moussaoui stroked his beard and families of Sept. 11 victims watched on closed-circuit TV, prosecutor Rob Spencer evoked the horror of that day and laid blame on the only man charged in the United States in the attacks.

"He lied so the plot could proceed unimpeded," Spencer asserted. "With that lie, he caused the deaths of nearly 3,000 people. He rejoiced in the death and destruction."

He went on: "Had Mr. Moussaoui just told the truth, it would all have been different."

A school teacher, a veteran of the first Gulf War and an Iranian-born Sunni Muslim woman are among the jurors who will decide whether Moussaoui is put to death or imprisoned for life.

U.S. District Judge Leonie Brinkema impaneled 18 jurors and alternates in 90 minutes. One who appeared upset at being chosen was excused, meaning the trial will proceed with 12 jurors and five alternates instead of six.

Moussaoui, a 37-year-old French citizen, has acknowledged his loyalty to the al-Qaida terrorist network and his intent to commit acts of terrorism, but denies any prior knowledge of the Sept. 11 plot.

Moussaoui pleaded guilty in April to conspiring with al-Qaida to hijack planes and commit other crimes. The trial will determine his punishment, and only two options are available: death or life in prison.

In his opening statement, MacMahon appealed to jurors to judge his client fairly, not "as a substitute for Osama bin Laden."

He scoffed at the idea Moussaoui had any part in the plot. "Moussaoui certainly wasn't sent over here to tell a lie, ladies and gentlemen."