George Clooney wins supporting-actor Oscar
(AP)
Updated: 2006-03-06 09:32
George Clooney won the supporting-actor Academy Award on Sunday for "Syriana," in which he effaced his glamor-boy looks behind the bearded, heavyset facade of a CIA patriot who grows jaded over U.S. policy in the Middle East.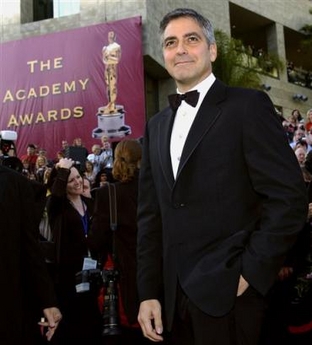 Multiple Oscar nominee George Clooney arrives for the 78th Academy Awards Sunday, March 5, 2006, in Los Angeles. Clooney is nominated for best actor in a supporting role for his work in 'Syriana,' as well as best director and best original screenplay for 'Good Night, and Good Luck.' [AP]


The win capped a remarkable year for Clooney, who made Oscar history by becoming the first person nominated for acting in one movie and directing another.

Along with performing in the oil-industry thriller "Syriana," Clooney directed the Edward R. Murrow tale "Good Night, and Good Luck," which earned him directing and writing nominations and was among the best-picture contenders.

"All right, so I'm not winning director," Clooney joked, adding that an Oscar win always would be synonymous with his name from then on, including in his obituary. "Oscar winner George Clooney, sexiest man alive 1997, `Batman,' died today in a freak accident."

Clooney also lauded Oscar voters for their daring.

"This group of people gave Hattie McDaniel an Oscar in 1939 when blacks were still sitting in the back of theaters," Clooney said, referring to the supporting-actress winner from "Gone With the Wind," the first black performer to receive an Oscar.

Clooney was one of the marquee names among a lineup of acting nominees heavy on lesser-known performers. And with a best-picture field of lower-budgeted films that drew smaller audiences than the commercial flicks that often dominate the Oscars, the question was whether Hollywood's big awards night could lure TV viewers.

Oscar organizers hoped new host Jon Stewart and the cultural buzz over front-runner "Brokeback Mountain" would beef up viewership.

The Oscars generally lure their biggest audiences in years when blockbusters such as "Titanic" or "The Lord of the Rings: The Return of the King" are favored to win.

"Brokeback Mountain," though, has become a phenomenon far beyond those who have actually seen it, entering the pop-culture psyche with its tale of cowboys in love (best-actor nominee Heath Ledger and Jake Gyllenhaal, who had been among supporting-actor nominees).

The show began with reprise visits from former Oscar hosts Billy Crystal, Chris Rock, Whoopi Goldberg, Steve Martin and David Letterman, in which they all turn down offers to do the show again. Crystal and Rock did a "Brokeback Mountain" spoof, the two sharing a mountainside tent like the cowboys in the film and begging off as hosts, saying they were too busy.

Stewart used best-picture nominee "Capote," about gay author Truman Capote, to set up a "Brokeback Mountain" wisecrack, saying the film "showed America not all gay people are virile cowboys. Some are actually effete New York intellectuals. It's true."

Whether the "Brokeback Mountain" factor would boost ratings was uncertain. ABC, which airs the show, and the Academy of Motion Picture Arts and Sciences assembled an A-list collection of Oscar presenters to help offset a relatively unknown cast of nominees that included David Strathairn for "Good Night, and Good Luck," Terrence Howard for "Hustle & Flow" and Amy Adams for "Junebug."

Before the show, fans filled bleachers outside the Kodak Theatre, and principals of the documentary nominee "March of the Penguin" set a light tone, walking the red carpet with huge toy penguins.

"It's a little too warm here to bring real penguins," said director Luc Jacquet.

"I'm a nervous wreck," confessed Diana Ossana, a "Brokeback Mountain" co-nominee for adapted screenplay and also a producer on the film. "This is my first time at the Oscars, but I don't have any expectations."

"Brokeback Mountain" won top prizes at earlier Hollywood honors including the Golden Globes and was expected to earn best picture at the Oscars and the directing trophy for Ang Lee, who would be the first Asian filmmaker to receive that award.

Yet the ensemble drama "Crash," featuring a huge cast of characters in multiple story lines playing out over a chaotic 36-hour period, was a strong dark-horse contender to pull a best-picture upset.

Along with "Crash," "Brokeback Mountain" and "Capote," the other best-picture nominees were the Edward R. Murrow tale "Good Night, and Good Luck" and the assassination thriller "Munich."

Acting categories had clear front-runners, as well, with Philip Seymour Hoffman expected to win best actor for the title role in "Capote" and Reese Witherspoon the best-actress favorite for her role as country singer June Carter in "Walk the Line."

But with powerhouse performances across the board, underdog winners were possible in any of the acting categories.

The best-actor lineup was especially strong. Along with Hoffman and Ledger, the nominees were Strathairn as newsman Murrow in "Good Night," Howard as a pimp-turned-rapper in "Hustle & Flow" and Joaquin Phoenix as country legend Johnny Cash in "Walk the Line."

For best actress, Witherspoon faced strong competition from Felicity Huffman in a gender-bending role as a man preparing for sex-change surgery in "Transamerica."