France confirms EU's first bird flu outbreak
(AP)
Updated: 2006-02-25 13:57
The European Union's first outbreak of lethal H5N1 bird flu in commercial poultry was confirmed Saturday in France, the EU's largest poultry producer.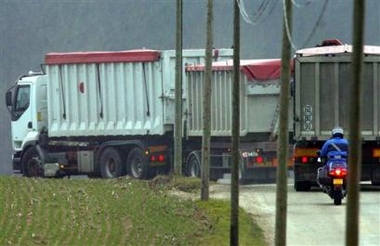 Three trucks carry the turkeys that were found to have the H5 virus, to be incinerated, in Versailleux, eastern France, Friday, Feb. 24, 2006. France has detected cases of bird flu on a turkey farm, but it was not immediately clear whether it was the deadly strain, the agriculture minister said Friday. [AP]
France's farming ministry said lab tests confirmed H5N1 in turkeys at a farm in the southeast Ain region, where thousands of the birds were found dead Thursday. The farm, which had more than 11,000 turkeys, has been sealed off and surviving birds slaughtered.
The spread of bird flu to commercial stocks in France, which has been working for months to prevent and prepare for an outbreak, served as a sobering sign for other developed countries that consider themselves well protected against the virus.
In an indication of the global impact of the French case, Japan had already on Friday temporarily suspended imports of French poultry, including the delicacy foie gras, meat and other internal organs, according to the Japanese Embassy in Paris. In 2005, Japan imported 1,510 metric tons of duck and other poultry meat and 377 metric tons of internal organs, including foie gras, from France.
France has some 200,000 farms that raise 900 million birds each year. In 2004, the latest year for which figures were available, the French poultry sector generated more than $3.6 billion in revenues, or more than 20 percent of total EU production. Consumers' fears of bird flu have already hit French poultry sales, and the industry could be hobbled if the virus spreads.
Scientists fear the H5N1 strain, which has spread from Asia to 10 European countries and Africa, could mutate into a form that is easily transmitted between humans, sparking a pandemic.
No human cases of bird flu have been reported in France or elsewhere in the EU. The disease has killed at least 92 people elsewhere. Before the outbreak in turkeys, the only confirmed French cases of H5N1 in birds were in two dead wild ducks found near the farm in the southeastern town of Versailleux.
Prime Minister Dominique de Villepin, speaking Friday at a bird flu preparedness exercise in the southeastern city of Lyon, said that France was "one of the best-prepared countries" for a possible flu pandemic. The exercise tested how police and medical teams would respond to the potential arrival of flu-stricken passengers at an airport.
The family of the turkey farmer was temporarily quarantined in a nearby hospital so doctors could monitor their health, officials said. Vehicles passing through a protection zone in the area were required to ride through a 100-foot long trough of disinfectant.
The government ordered all domestic birds indoors or, in a few regions, vaccinated. Protection zones were set up around the site where the first duck was found, in the town of Joyeux. Police began checks of vehicles to ensure that no captive birds leave the region.
The outbreak could have been caused by droppings from migratory wild ducks on piles of straw used in turkey pens that had been stored outside, France's Poultry Industry Association said in a statement.
Meanwhile, tests confirmed Slovakia's first cases of H5N1 in wild birds, officials said Friday.
The strain was detected in a white grebe found in the capital, Bratislava, and in a peregrine falcon found at the border with Hungary.
German authorities said Friday that the deadly strain has been found in wild birds in two more German states.
In Vienna, Austria, EU health ministers said they would launch a public awareness campaign to ease growing fears over health and food safety.