Rio rumbling with Carnival revelers
(AP)
Updated: 2006-02-25 13:33
Samba drums rumbled and tourists packed the streets Friday as Rio began its yearly carnival — five days and nights of partying.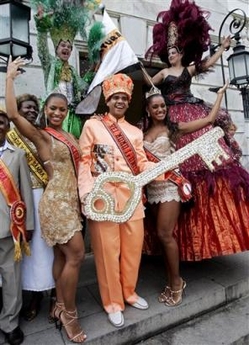 Carnival King Alex de Oliveira Silva, center, poses holding the key to the city with Queen Ana Paula Evangelista, right, and Princess Elaine Babo, left, in Rio de Janeiro, Brazil, on Friday, Feb. 24, 2006. The main carnival parade will start Sunday, Feb. 26. [AP]
Though Rio's carnival officially kicked Friday, informal groups have been crowding the city and tying up traffic for weeks.
"If you want to go to Carnival, you go to Rio," said Rob Stevens, of Peru, Ind., as he sat sipping a beer on Copacabana beach.
The centerpiece of the celebration is the annual samba parade, which takes place Sunday and Monday nights in the city's Sambadrome stadium.
The parade features the city's 14 top samba groups and is beamed across the nation on live television.
But there's more to Carnival than the parade. More than ever, the party is taking place in the streets.
"Even if you can't get into the Sambadrome, there's lots of stuff happening all over. There are all these great parties and groups playing in the streets. You just have to join in," said Ali Mason, a 29-year-old Englishman who lives in Argentina.
Officials said they expected some 600,000 tourists for this year's Carnival celebrations in Rio de Janeiro.
The official Carnival king, Rei Momo, opened the festivities with an appeal for revelers to practice safe sex.
Brazil's Carnival is traditionally a time of wild partying and reckless abandon, but in recent years the government has made AIDS prevention a major feature of the annual celebrations.
The Health Ministry plans to distribute some 25 million condoms this year, more than double the 11 million condoms distributed last year, at celebrations across this nation of 185 million people.
Across Brazil, cities celebrate carnival in different ways. In the northeastern cities of Olinda and Recife, they dance to frevo, a high-speed carnival music.
In the northeastern city of Salvador, where carnival got under way Thursday and where the samba is inflected with more Caribbean swing, U2 front man Bono wowed revelers, joining Carnival singer Ivete Sangalo in an impromptu duet of "Vertigo."