Paris Hilton ordered to stay away from man
(Reuters)
Updated: 2006-02-09 08:55
Hotel heiress Paris Hilton was ordered Tuesday to stay away from a Los Angeles party planner who claimed she called him a "lazy Mexican" and bombarded him with threatening phone calls.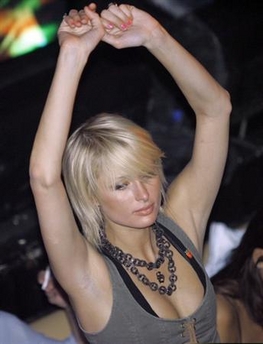 Paris Hilton dances at the Blender magazine party in Park City, Utah January 21, 2006. Lawyers for Hilton are in talks with a broker of celebrity porn in a bid to recover private diaries and photos of the celebrity heiress that were put up for sale for $20 million, both sides said on Friday. [Reuters]


Promoter Brian Quintana, who says he introduced Hilton to her current boyfriend Greek shipping heir Stavros Niarchos, won a restraining order in Los Angeles Superior Court against the socialite known for her "The Simple Life" TV reality show and for an Internet sex video made with a former boyfriend.

Quintana said Hilton began a smear campaign against him after she started dating Niarchos, accusing him of trying to get Niarchos to ditch her for his former girlfriend, Mary-Kate Olsen.

Quintana said Hilton shoved him three times, that he lost clients after they received phone calls from Hilton warning them not to do business with him and that she made numerous phone calls threatening his life.

Details of the stay-away order have yet to be determined.

Hilton was not in court and did not testify. Her spokesman, Elliot Mintz, told reporters, "I've known Paris and worked with her, and the kind of person that was described on the stand this afternoon doesn't resemble the woman that I know."