Bombers kill 65 at two mosques in Iraq
(AP)
Updated: 2005-11-18 23:09
Suicide bombers killed 65 worshippers at two Shiite mosques near the Iranian border Friday, while two car bombs targeted a Baghdad hotel housing foreign journalists and killed eight Iraqis.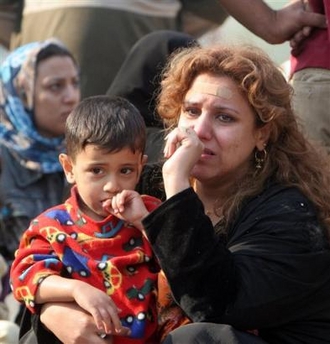 A woman cries as she holds her child at the site where two suicide car bombers detonated vehicles in Baghdad, Iraq, Friday, Nov. 18, 2005, in a residential district. A hotel housing foreign journalists was the apparent target, U.S. and Iraqi officials said. The blast was also close to an Interior Ministry building at the center of a torture dispute. At least six people were killed and 43 injured in the blast near the Hamra hotel in the Jadriyah district, officials said. [AP]
The suicide attackers targeted the Sheik Murad mosque and the Khanaqin Grand Mosque in Khanaqin, 90 miles northeast of Baghdad, as dozens of people were attending Friday prayers, police said. In addition to the 65 killed, the police command said 75 were wounded in the largely Kurdish town.
At sunset, dozens of people were still searching the rubble of the three-story Khanaqin Grand Mosque. As the men dug, 12-year-old Sarkhel Akram collected copies of the Quran, the Muslim holy book, then she kissed them and put them away.
The suicide attacker walked into the mosque and detonated his explosives in the middle of a group of people, said Ali Abdullah.
Omar Saleh, 73, said from his bed at Kalar hospital that he was bowing in prayer when the bomb exploded. "The roof fell on us and the place was filled with dead bodies," he said.
The blasts near the Hamra Hotel in Baghdad knocked down protective concrete walls and blew out windows but caused no structural damage. Several nearby homes were destroyed, and firefighters and U.S. troops joined neighbors to dig through the debris to pull out victims.
Gunfire followed the blasts, which came less than a minute apart and echoed throughout downtown Baghdad. They sent a mushroom cloud hundreds of feet into the air.
"What we have here appears to be two suicide car bombs (that) attempted to breach the security wall in the vicinity of the hotel complex, and I think the target was the Hamra Hotel," U.S. Brig. Gen. Karl Horst told reporters at the scene.
News organizations housed at the Hamra include NBC News and The Boston Globe.