Hundreds feared dead in Katrina's wake
(Reuters)
Updated: 2005-08-31 07:00
BILOXI, Mississippi - Helicopters plucked frantic survivors from rooftops of inundated homes on Tuesday and hundreds were feared dead along the U.S. Gulf Coast after Hurricane Katrina sent a wall of water into Mississippi and flooded New Orleans, Reuters reported.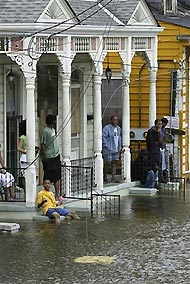 A family sits on their porch in the Treme area of New Orleans, which lies under several feet of water after Hurricane Katrina hit August 29, 2005. [Reuters]

The economic cost of the hurricane's rampage could be the highest in U.S. history, according to damage estimates.

"The devastation is greater than our worst fears," Louisiana Gov. Kathleen Blanco told a news conference. "It's totally overwhelming."

An overnight breach in New Orleans' protective levee system allowed water from Lake Pontchartrain to flood most of the city.

In the Mississippi coastal city of Biloxi, hundreds may have been killed after being trapped in their homes when a 30-foot (9 meter) storm surge came ashore, a city spokesman said. Cadaver dogs were being brought in to help find the dead.

"It's going to be in the hundreds," spokesman Vincent Creel told Reuters.

New Orleans Mayor Ray Nagin reported bodies floating in the city's floodwaters.

Rescuers struggled through high water and mountains of debris to reach areas devastated by Katrina when it struck the Gulf Coast region on Monday. The storm inflicted catastrophic damage all along the coast as it slammed into Louisiana with 140 mph (224 kph) winds, then swept across Mississippi, Alabama and Tennessee.

It shattered buildings, broke boats, smashed cars, toppled trees and submerged whole neighborhoods. Risk analysts estimated the storm would cost insurers $26 billion, making Katrina potentially the costliest U.S. natural disaster.