Bjork: You Ask The Questions
(independent)
Updated: 2005-03-18 14:51
Do you consider yourself to be eccentric? And how would you like to change the world?

Bjork Gudmundsdóttir, 39, was born in Reykjavik, Iceland, and recorded her first album at the age of 11. She made her name internationally as the lead singer of The Sugarcubes and moved to Britain in 1992, recording her first two solo albums, Debut and Post, which sold three million copies each. Hounded by the paparazzi, she moved back to Iceland before settling in New York. In 2000, she won the best actress award at the Cannes film festival for her role as Selma in Lars von Trier's Dancer in the Dark. She has a son and a daughter.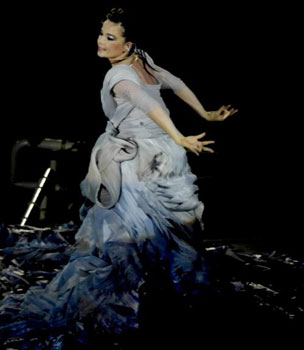 Iceland singer Bjork performed a song of her upcoming album at the openning ceremony of 2004 Athens Olympic Game. [baidu]

Many of your songs are very personal and often intimate. Do you mind when another singer covers them?

No, I'm honoured. I particularly like death metal versions of my songs - they are quite refreshing. I'm not possessive of my songs. I think most musicians would agree with me that once you put a record out, it's in the world and it doesn't belong to you any more.
Given the chance, how would you change the world?
It's a big question. Getting rid of religion would be a good start, wouldn't it? It seems to be causing a lot of havoc. My next record is to raise money for the tsunami region. I get asked to be part of a lot of charity projects, but I'm not always sure where the money will end up. I'm not very political. Obviously, I hate the mess politicians make, but I would rather call myself a humanitarian than a political animal. I don't vote.
Which artist would you most like to work with?
That's a really tricky one. Most of the people I work with I've known for a while beforehand. I'll have known them for a few years and then I'll end up working with them - I don't really plan it. I never say, "Oh I want to work with this person" and point at someone in a magazine. That would be like a blind date - you would have no idea if there would be any chemistry. I'd rather let relationships with other musicians grow organically like a plant and if some fruits come out of it, great.
Do you believe in magic?
Of course. It's up to the individual. If you want magic to be in your life, you will have magic in your life. It's about faith really. As I get older, I am experiencing a lot more little abstract moments. For example, when you're stuck at a red light in a taxi, you stare into the sky and experience a bit of magic. It's just a little buzz. It's not about red sparkly shoes or Santa Claus. It's more in between the clouds, more invisible.
You won the Palme d'Or for your role in Dancer in the Dark - and swore you'd never act again. How can I persuade you to come out of retirement?
It's a misunderstanding that I don't want to act because of my experience on Dancer in the Dark. I never really wanted to act. I'd just rather make music. I think it's a better use of me. But since I was a child, I've wanted to make one movie and for it to be a musical so I jumped at the chance of doing Dancer in the Dark. I don't think I will do another film. I'm more worried that I won't have time to make all the music I want to make in the 40 or 50 years I've got left to live.
Do you consider yourself eccentric?
I personally don't. People in Iceland don't think so, either. I went to a birthday party in Manhattan recently where there were only Icelanders. I was talking to a clerk who said he often just jumped into a taxi in the middle of the working day with no money and asked the driver to drive to the ocean now or he'd suffocate. Icelandic people are not like most people.
How closely related are you to the Bjork we read about in the press?
I don't know. The person you read about in the press will always be different from me, but that's OK, that's the nature of storytelling. I was 11 when my first record came out so I learnt really early that what other people think of me is not in my control. But I think overall I'm pretty lucky that people are interested in someone as unusual as myself.
I've read that you used to be inspired by the sea. Why? And does it still inspire you?
It does. I've always lived by the sea. When I was a child, I was a short walk away, but once I had a choice, I moved to a house a minute away. I think it's to do with oxygen. I feel claustrophobic if I'm really far away from the ocean - like an animal in a cage. It makes a lot of sense to me that the Irish who went to the United States 200 years ago stayed on the East Coast or went all the way to the West Coast. And that people who emigrated from land-locked countries like Hungary tend to live in the middle of the States. The sea is just in your blood if you grow up with it.
What is the best environment in which to write songs?
For me, it's when I've been alone in nature for a few days, preferably by the ocean. I've been everywhere where there is an ocean and not a lot of people to write my songs. Everywhere. At the end of November, I went to an island called Yakushima in Japan. It's tiny and it's got a rainforest and hot springs. Once I get there, there isn't a recipe for how and when to write. The minute I decide there is a recipe, it won't work. You've got to improvise.
You became famous in Iceland when you were 11 years old. Do you regret entering the spotlight so young?
I do think sometimes that I might have become a better musician without all the attention. It's bothersome. It wasn't that I particularly wanted to be famous at that age. It was driven a lot by my mum.
The British have always been very fond of you and your music. What do you think of us? How would you describe the British?
Top sense of humour. I really like the British character. They're not emotional on the outside, but I don't mind working at getting to know people for a while. I lived in Britain for three years. I lived in Little Venice in London. Back then, it was a granny area and I liked it. But I had to move away because of the tabloids. There were 20 photographers sleeping in my bushes and I didn't like it.
What is your favourite outfit? And your favourite designer?
Most of the time I just wake up and put on whatever I feel like wearing that day. My urge to go shopping comes in chunks. There'll be months when I don't get anything, then I'll get bored of everything I have and go on a search. I tend to buy my clothes from secondhand shops or little shops which stock designers that haven't become well known yet.