Watching childern and teachers an Orwellian deed?
(eastday.com)
Updated: 2005-03-18 09:39
Children at the Shanghai Minhang Science and Technology Kindergarten might be forgiven if they think they are part of a new reality TV show, one called "You Can Never Get Away with Anything."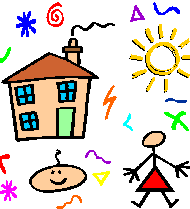 Can children enjoy a relaxed stay at a kindergarten under watch? [baidu]

The Minhang District school invested over 3,000 yuan (US$361) to install 13 video monitors in its classroom corners, corridors and playgrounds this semester.

The monitoring system never blinks during the entire school day, capturing every action by students, teachers and administrators.

It records the lessons taught in class and how each child performs, along with the kids' actions while eating and sleeping.

Parents can review the tapes while picking up their children.

It's not that administrators are particularly nosy; they just want to protect themselves in what's becoming an increasingly litigious society.

"With the monitoring system, the school will have strong evidence in campus accident cases," said Li Wei, the kindergarten's headmaster.

In the latest mishap, a 5-year-old received several stitches on her nose after she bumped into an iron bed and fell to the floor.

Teachers said the girl had tumbled on her own, while the parents insisted someone had pushed their daughter.

They filed a lawsuit against the kindergarten, which ended up paying an undisclosed amount for the girl's medical treatment.

Li said it was then that the school decided to begin recording all the movements of its students.

"The monitoring can also function as a supervision tool for teachers performance, encouraging them to make sure they fulfill their responsibilities at all times," she added.

The new system was a hit with parents as soon as it was installed.

More than 10 moms and dads asked to review the videos of their children's behavior.

"It's reassuring to be able to check my son's actions when I'm at work," said Jiang Xu, mother of a 2-year-old boy.

Some sociologists, however, are concerned that this somewhat Orwellian approach to education might hinder the students' psychological development.

"Children should be taught to behave themselves naturally," said Gu Xiaoming at Fudan University.