Romanian professor, 67, expects twins
(Agencies)
Updated: 2005-01-07 08:57
The case of the 67-year-old professor who is now expecting twins has provoked sharp polemics in Romania, with demands for an age limit for women wanting test tube babies.
Retired university professor Adriana Iliescu is seven months pregnant after nine months of fertility treatment, and thus qualifies as a serious contender for the title of oldest mum in the world.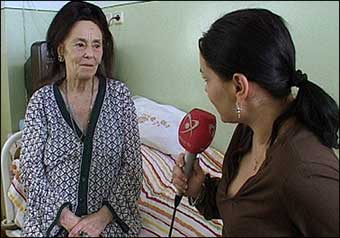 This photo taken from a Realitatea TV broadcast shows 67-year-old retired university professor Adriana Iliescu (L) seven months pregnant with twins after almost a decade of treatment in fertility clinics giving an interview. [AFP]

The polemics are focusing on whether her case is a miracle or an act contrary to nature's way.

Depending whose side you're on in the impassioned Internet slogging match, she's either an egoist with no conscience or a model of womanly courage.

"She will be too old to see her children grow up," lamented the newspaper Cotidianul, questioning the ethics of doctors who consented to her being artificially inseminated.

But the Church has adopted a conciliatory position.

"The Bible preaches love and procreation at whatever age," said the press office of Patriarch Bogdan Teleanu, head of the Romanian Orthodox Church.

Lucia Cornea, a staff member of Romania's centre for assisted reproduction, does not agree: "It's a scandal," she said.

A new Romanian law on assisted reproduction will come into effect in the country on January 1, 2007, the date on which Romania hopes to join the European Union, Cornea says.

"This law, in line with European norms, is expected to include an age limit of around 50 years of age for Romanian women seeking artificial insemination," she notes.

Former health minister Ovidiu Branzan suggested tactfully the in-vitro fertilisation techniques to which Professor Iliescu was subjected were perhaps "a bit overdone."

"The theme of assisted reproduction is a very delicate one," he said.

Great mystery surrounds the mother-to-be, known to the Romanian public only from one exclusive interview on the Realitatea television channel.

In the appearance, filmed in a hospital whose identity and location were not divulged, Professor Iliescu said she had "not been able to resign myself to not having a child."

"I always dreamt of being a mother, and now I'm experiencing the happiest time of my life, waiting to bring my twin daughters into the world," the graying academic said with visible emotion.

Iliescu said she did not feel the effect of her relatively advanced years.

Artificial insemination clinics are discreetly restrained when asked for details about the Iliescu case. Only one thing is certain. The health ministry confirmed that the insemination was carried out in a private clinic.

A ministry spokesman declined further comment beyond saying his department was following the case "with great interest."

Gheorghe Borcean, head of the Romanian medical profession's ethics committee, criticised the vagueness and mystery surrounding the case.

"A case of such prominence should require academic debates and not just one single television report," he complained.

He said the Iliescu experiment had been "very risky both for the mother and for the children."

"Furthermore the quality of the sperm used for conception is doubtful," he warned.