Officials to be liable for bad investment
By Xing Zhigang (China Daily)
Updated: 2006-03-10 05:57
Government officials and heads of State-owned enterprises (SOEs) will be held accountable for bad investment decisions that cause huge economic losses, China's top auditor said yesterday.
Auditor-General Li Jinhua said inspectors will conduct economic responsibility audits on government officials and SOE chiefs, and assess the cost-effectiveness of major infrastructure projects in order to avoid the misuse of State funds.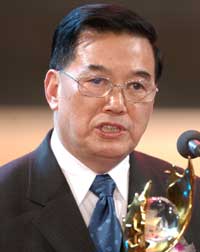 Auditor-General Li Jinhua [newsphoto/file]

"In line with the newly-amended Audit Law, we will audit government officials and SOE managers for their economic responsibilities during their tenure in office," he said.

"Meanwhile, conducting cost-effectiveness audits on major infrastructure projects will become a very important task for us at the next stage."

The top auditor stressed the main aim of these audits is to expose problems involving economic losses and wasted resources in huge infrastructure projects.

Li made the comments on the sidelines of the on-going annual session of the National People's Congress (NPC), China's top legislature.

He once warned of massive economic losses resulting from bad investment decisions by government officials and SOE heads, saying, "wrong decision-making is more serious than embezzlement and corruption."

In his report to the NPC Standing Committee last June, Li said auditors in a 2005 campaign discovered the illegal use of 1.6 billion yuan (US$198 million) in 10 large SOEs.

In stark contrast, economic losses caused by wrong decision-making and mismanagement stood as high as 14.5 billion yuan (US$1.7 billion) in these firms.

Growing calls for government officials and SOE heads to be held responsible for bad decisions have been addressed in the newly-amended Audit Law.

Article 25 of the law, amended by the NPC Standing Committee on February 28, and to be enacted on June 1, authorizes auditors to conduct economic responsibility audits for the first time.