Corruption in mining investment faces action
By Xing Zhigang (China Daily)
Updated: 2006-03-10 05:57
A senior work safety official yesterday vowed a further crack down on illegal investment by government officials into coal mines this year, in a drive to clean up the industry.
"As Premier Wen Jiabao has required, we will continue to strike hard at any illegal investment in coal mines by government officials," said Zhao Tiechui, vice-minister of the State Administration of Work Safety.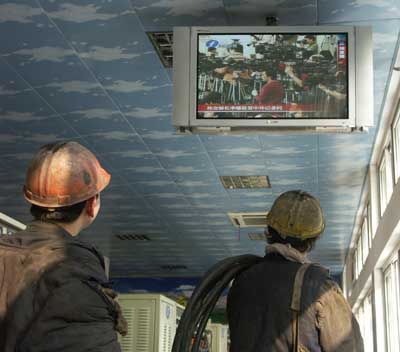 Two miners watch the live broadcast of Foreign minister Li Zhaoxing's news conference at a coal mine in Huaibei, East China's Anhui Province March 7, 2006. The hoped the ongoing session of the National People's Congress and the Chinese People's Political Consultative Conference could help them improve work conditions and raise incomes.[newsphoto]
Zhao, also director of the State Administration for Coal Mine Safety, issued the warning on the sidelines of the ongoing annual session of the National People's Congress (NPC), China's top legislature.
In his government work report to the NPC on Sunday, Premier Wen placed an unprecedented emphasis on improving work safety.
"We will conduct in-depth investigations into cases of dereliction of duty and corruption related to work safety and severely punish those responsible," Wen said.
Illegal investment in coal mines by government officials have been widely blamed for their disregard of illegal or unsafe operations in the lucrative business.
Last year, 5,938 coal miners were killed in 3,341 accidents, accounting for almost 80 per cent of the world's total.
By the end of last year, the government has forced 4,878 officials and heads of State-owned enterprises to withdraw 562 million yuan (US$69 million) of investment in coal mines as part of a special campaign.
Zhao yesterday encouraged the public to report on corrupt practices and help seek out the officials who had invested in coal mines.
"We will firmly depend on the support of the public to push ahead with the work," he said.
The senior official also emphasized that his administration will step up efforts to close down unsafe coal mines through better supervision.
To curb rampant coal mine accidents, Zhao's administration issued new safety rules for coal mines in September last year, ordering the closure of illegal mines and the suspension of those that failed to meet safety requirements.
A total of 5,243 illegal and unsafe mines had been closed down by the end of last year.
"Despite the initial progress, it cannot be ruled out that some unsafe coal mines are still in operation, and we will continue to strengthen our supervision and inspection," Zhao said.
As China's coal industry is often hitted by deadly accidents, the vice-minister said he spends at least half of his working time investigating coal mine accidents each year.
Zhao expressed his hope that the central government's greater attention on work safety will pay off with greatly improved mining safety.
Earlier, Premier Wen said the central government will allocate 3 billion yuan (US$371 million) in treasury bonds to control coal mine gases, which are a major cause of coal mine blasts.