Japan FM's remarks on Taiwan condemned
(China Daily/AP)
Updated: 2006-03-10 05:57
The Foreign Ministry lodged a protest against remarks made by Japanese Foreign Minister Taro Aso yesterday, which called Taiwan a law-abiding "country."
This was the latest of Aso's recent remarks on Taiwan that challenges Beijing's one-China principle.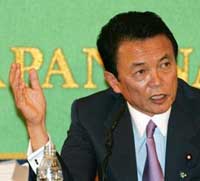 Japanese Foreign Minister Taro Aso speaks to reporters at a press conference in Tokyo Wednesday, March 8, 2006. [AP]

"We are shocked at the remarks that were delivered by Japan's top diplomat," Foreign Ministry spokesman Qin said.

According to Japan's Jiji Press news agency, Aso told a parliamentary committee yesterday that Taiwan is "a law-governed country, as its democracy is fairly mature and liberalism has taken root in its economy."

The spokesman also urged Japan not to use the row with China on gas exploration in the East China Sea to divert attention from top Japanese leaders' repeated visits to the controversial Yasukuni Shrine.

"It will not benefit bilateral relations and will not contribute to solving the problem," Qin told a regular news briefing.

Aso's comment conflicted with Tokyo's long-standing one-China policy, meaning Japan ¡ª like the United States and many other nations ¡ª does not recognize Taiwan as an independent country.

The Japanese Foreign Ministry denied Aso was breaking new ground.

"There is no change in Japan's position on the Japan-China agreement of 1972 that stated there is one China," said Keiji Kamei, an official with the Foreign Ministry's China division.