WSJ: Lobbyists target Chinese legislators
(WALL STREET JOURNAL)
Updated: 2006-03-09 10:21
China's legislature is taking on a new role: a target for interest groups to lobby.
With nearly 3,000 delegates gathered in the capital until next week for the annual meeting of the National People's Congress, some representatives of different interest groups have also flocked to Beijing. They have been seeking to win the ears of delegates on the sidelines of the 10-day meeting on issues from tax policy to antidiscrimination measures for hepatitis B carriers.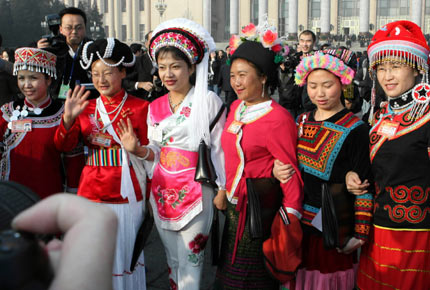 Ethnic minority delegates, dressed up in traditional costumes, arrive at the Great Hall of the People to attend the opening of the National People's Congress (NPC) in China's capital of Beijing March 5, 2006. The annual gathering of top Chinese lawmakers started Sunday morning and will close on March 14, 2006. [Xinhua]

Some groups and companies had started seeking out NPC delegates a few years ago. But this year, the lobbying has picked up markedly, delegates say.

Delegates -- who meet once a year to discuss and approve the premier's work report, the state budget and any bills that have been teed up -- are also becoming more outspoken in representing their constituencies. The trend underscores the rise of various interest groups in China amid a pluralization of society and the growth of a middle class -- as well as the lack of other effective channels for people to push their causes.

Still, analysts and others are welcoming the changes as a step towards a more transparent legal system and more influential legislature. Such a development is important at a time when market changes breed corruption and other abuses of power, sparking growing unrest and discontent among an increasingly vocal population.

"These proposals reflect public opinion, which will make the central government pay more attention while drafting legislation," says Cai Dingjian, a professor at China University of Political Science and Law and a former NPC official. "This is the basic function that NPC delegates should play."

The NPC's bill-reviewing group declined to comment on lobbying activities. According to NPC statistics, the number of bills proposed by delegates and accepted by the congress for review has risen steadily in recent years, more than tripling to 991 last year from 2001.

Under China's legislative system, the NPC's standing committee conveys any proposed bills to relevant ministries, which then decide whether to turn them into formal legislation to be approved by the NPC.

Qi Dong, a deputy secretary general of the China Market Association, a semiofficial research organization that also represents Chinese peddlers and their markets, is hoping the NPC will take up his cause to better protect private vendors.

After hearing complaints from peddlers around the country about being overcharged for rent and overtaxed, he persuaded an NPC delegate from his province of Zhejiang -- home to many private businessmen -- to submit his draft of a proposed "Law of Commodity Exchange Markets" at this year's meeting.

Mr. Qi says he got to know the delegate, Zhou Xiaoguang, a private jewelry-company owner, after attending several public hearings she held to learn about her constituents' beefs.

Beijing-based lawyer Xiao Taifu's proposed bill to unify tax rates for domestic and foreign-invested companies in China is also being submitted to the NPC. Chinese policy makers have said they are moving towards reunification of the tax system, which currently favors foreign companies over domestic ones. But the policy change has been delayed by two years, partly due to opposition from foreign firms.

"Gaining public support is the first step [in making] legislation, because every law and regulation should reflect public opinion. We are doing this to help the government give up its worries and make up its mind," says Mr. Xiao, adding that he persuaded a delegate from Sichuan province to take up his cause. Mr. Xiao says he isn't acting on behalf of any companies.

Lu Jun, Web master of an Internet site for hepatitis B carriers, traveled to Beijing recently to seek support for carriers from legislators and members of another elected body, the Chinese People's Political Consultative Conference, which is also now convening in Beijing.

Mr. Lu, from Henan province, says at least two NPC delegates and the Chinese Peasants' and Workers' Democratic Party, a minority party representing medical professionals in the CPPCC, have agreed to submit his proposal to protect carriers' rights at their respective meetings, after he presented examples of discrimination against carriers.

China's 120 million carriers of the contagious liver disease have faced widespread discrimination, with some companies refusing to hire carriers and universities forcing them to drop out. "We are a social vulnerable group, and we need a specialized law to protect us," Mr. Lu says.

Delegates themselves, meanwhile, have become more receptive to taking on various causes -- and more aggressive in speaking up for their constituencies, analysts say.

One reason is their higher education level. In the past, the NPC representatives -- elected by provincial people's congress delegates from a restricted field of candidates -- mostly were model workers, heroic soldiers and other such people. In the early 1990s, only 56% of the delegates had a college education. In the current congress, elected in 2002, 92.5% did.

Beijing has also sought to beef up the NPC's role as a legislative body. Last year, the NPC asked delegates to submit any bill proposals in the form of formal legislation. Many delegates have sought the help of lawyers to draft bills.

NPC delegates assume their legislative roles only for a few days each year and don't have full-time staff. They also tend to keep their full-time jobs, whether in the state or private sectors. While this sometimes leads to conflicts of interest, it also helps them understand the needs of their constituents, analysts say.

Take Han Deyun, a delegate from the southwestern city of Chongqing and a lawyer by trade. He has submitted a draft amendment to the National Compensation Law, to make it easier for lawyers to help clients gain compensation for claims on wrongful imprisonment, detention and execution, and to raise compensation amounts. Many other lawyers favor such changes.