WHO: Bird flu bigger challenge than AIDS
(AP)
Updated: 2006-03-07 14:19
GENEVA - The lethal strain of bird flu poses a greater challenge to the world than any infectious disease, including AIDS, and has cost 300 million farmers more than $10 billion in its spread through poultry around the world, the World Health Organization said Monday.
Scientists also are increasingly worried that the H5N1 strain could mutate into a form easily passed between humans, triggering a global pandemic. It already is unprecedented as an animal illness in its rapid expansion.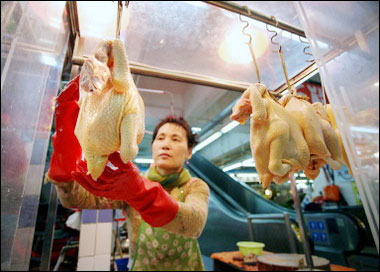 A poultry vendor sells cooked chickens at a market in Hong Kong March 6, 2006. Hong Kong has stepped up checks at markets and poultry farms, and the government enforced a ban on bird and poultry import from the southern China after the death of a man from bird flu in nearby Guangdong province. [AFP]

Since February, the virus has spread to birds in 17 countries in Africa, Asia, Europe and the Middle East, said the WHO's Dr. Margaret Chan, citing U.N. Food and Agriculture Organization estimates of the toll on farmers.

"Concern has mounted progressively, and events in recent weeks justify that concern," Chan, who is leading WHO's efforts against bird flu, told a meeting in Geneva on global efforts to prepare for the possibility of the flu mutating into a form easily transmitted among humans.

U.S. health officials said Monday they have authorized the development of a second vaccine to combat the deadly virus, which already is believed to be changing.

The U.S. government has several million doses of a first bird flu vaccine based on a sample of virus taken from Vietnam in 2004. The virus is believed to have mutated since then, health officials said.

"In order to be prepared, we need to continue to develop new vaccines," Health and Human Services Secretary Mike Leavitt said Monday at an immunization conference.

In Austria, state authorities said Monday that three cats have tested positive for the deadly strain of bird flu in the country's first reported case of the disease spreading to an animal other than a bird.

The cats had been living at an animal shelter where the disease already was detected in chickens, authorities said.

Poland reported its first outbreak of the disease, saying Monday that laboratory tests confirmed that two wild swans had died of the lethal strain.

Chan told more than 30 experts in Geneva that the agency's top priority was to keep the deadly H5N1 strain of bird flu from mutating.

"Should this effort fail, we want to ensure that measures are in place to mitigate the high levels of morbidity, mortality and social and economic disruption that a pandemic can bring to this world," she said.

WHO says 175 people are confirmed to have caught bird flu, and 95 of them have died.

"No one can say when this will end," Chan said.

Global influenza pandemics ¡ª as opposed to annual recurrences of seasonal flu ¡ª tend to strike periodically. In the 20th century, there were pandemics in 1918, 1957 and 1968.

WHO said bird flu could potentially cause more deaths than those from the global flu pandemics. Because the H5N1 virus is airborne, it is easier to transmit and much more contagious than HIV/AIDS, WHO officials said.

Dr. Mike Ryan, director of epidemic and pandemic alert and response at WHO, said, "We truly feel that this present threat and any other threat like it is likely to stretch our global systems to the point of collapse."

This is the first time world health authorities have tried to stop a global influenza pandemic before it begins. Chan referred to the spread of severe acute respiratory syndrome, or SARS, as evidence of "how much the world has changed."

SARS infected 8,000 people, killing 800 of them.

"In a globalized economy, with high volume of international travel, vulnerability to new disease threats is universal," she said. "It is the same for the rich and for the poor."

WHO spokeswoman Maria Cheng said experts hope to isolate areas where there is a bird flu outbreak and establish agreements allowing international health authorities to respond quickly, testing viruses and implementing containment measures.

Public health measures to quarantine areas, isolate people or help give antiviral medicine to those infected with bird flu also are on the agenda of the meeting, which ends Wednesday.

Even if a pandemic cannot be stopped, WHO says such measures can buy time for health authorities to improve their response strategies and stave off the disease until a pandemic vaccine can be produced.

Meanwhile, a top animal health official with the Rome-based U.N. Food and Agriculture Organization said developed countries had responded slowly to bird flu, failing to control the disease in Asia and not doing enough to prepare poor countries, particularly in Africa, for its spread.

"In 2004 we said it will be an international crisis if we don't stop it in Asia, and this is exactly what is happening two years later," said Joseph Domenech, head of FAO's Animal Health Service.

"We were asking for emergency funds and they never came. We are constantly late."