Official: China's economy set for strong 2006
(Reuters)
Updated: 2006-03-07 14:04
China will enjoy another year of fast and steady growth in 2006, a top statistics official said on Tuesday.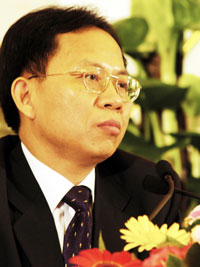 Qiu Xiaohua. [newsphoto]

"China's economy won world recognition and came top of the class in 2005," said Qiu Xiaohua, deputy head of the National Bureau of Statistics. "I think China will be a star pupil again this year," he told a news conference on the sidelines of the National People's Congress, or parliament.

Qiu said investment, exports and consumption would all underpin demand, while shortages of oil, power and coal were already easing thanks to government efforts to bring supply into better balance with demand.

China, which grew 9.9 percent in 2005, was also benefiting from two consecutive years of strong harvests, Qiu said.

"All these sectors will contribute to steady and fast economic growth this year," he said.

World economic trends were in China's favor. Despite uncertainties over bird flu and oil prices, global growth should continue at a fast, benign rate, Qiu said.

The government's drive to reinvigorate the countryside would help to create new growth opportunities, as would the increasing emphasis on technological innovation, he added.