Affluent couples dodging one-child policy
(ABC)
Updated: 2006-03-07 09:59
China's top government advisor on population issues has called for strict measures to stop rich people from having too many children and violating the country's "one-child" policy.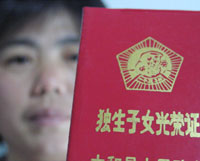 A woman shows her one-child certificate in Fuyang, Anhui Province in this November 14, 2005 photo. Some of nouveau riches choose to have their second or third child by paying a handsome amount of fine, challenging the country's basic policy on family planning. [newsphoto]

The Xinhua news agency quotes population expert Yang Kuifu as saying an increasing number of business tycoons or rich celebrities have been having two or more children in recent years.

Mr Yang, who is the vice chairman of the Committee of Population, Resources and Environment, says in addition to imposing fines, the government should adopt tough measures against affluent couples, including giving them poor credit ratings.

The committee falls within the Chinese People's Political Consultative Conference, China's top advisory body, which is meeting in Beijing this week along with the National People's Congress, for the annual parliamentary session.

China's more than two-decades old policy restricts urban couples to only one child, while allowing rural couples to have a second child if the first one is a girl.

The government credits the policy for controlling growth in China's already huge population of 1.3 billion and says it would have at least 400 million more people today if it were not for the policy.