South Africa's former No.2 acquitted of rape
(AFP)
Updated: 2006-03-07 09:31
South Africa's most explosive rape trial resumed with former deputy president Jacob Zuma saying he had consensual sex with an HIV-positive woman but the alleged victim insisted she was violated by a father figure.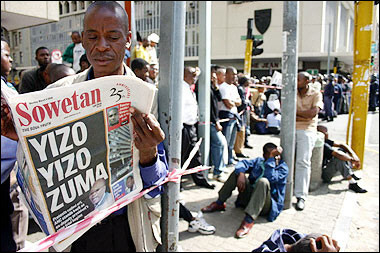 A supporter of the former South African Deputy President Jacob Zuma reads a newspaper outside the court in Johannesburg while Zuma's rape trial proceeds. South Africa's most explosive rape trial resumed with Zuma saying he had consensual sex with an HIV-positive woman but the alleged victim insisted she was violated by a father figure. [AFP]


Zuma denied guilt in the case that could seal the veteran's leader's political demise after graft allegations that cost him his job as South Africa's number two and being a frontrunner in the race to succeed President Thabo Mbeki.

But the alleged victim, an AIDS activist, said she had been raped by a man she considered her father and whom she had known since the age of five.

Zuma, who entered the court amid tight security, was asked by chief prosecutor Charin de Beer if he had "unlawfully and intentionally assaulted an adult female and had sexual intercourse with her".

He stood up and replied "not guilty."

According to a statement by Zuma read out by judge Willem van der Merwe, the alleged victim had come to his Johannesburg home on the night of November 2, and they had sex upon mutual consent.

Zuma said in his statement that he and the 31-year-old woman had "intercourse which lasted for some time and was consensual," adding: "She had a cellphone which she could have used and she could have left the place at any time."

The alleged victim -- who cannot be named -- testified later and recounted her version of the events, her voice breaking while describing the alleged assault.

"I saw him as a father and I treated him as a father and he treated me as a daughter," she said of Zuma, who was a close friend of her father and his comrade in prison during South Africa's liberation struggle.

She said she had called Zuma after receiving news that a relative had been bitten by a snake in Swaziland and that Zuma asked her to come home before proceeding to the tiny kingdom wedged into South Africa's east.

"Umalume (uncle in Zulu) then said to me I must go and prepare for bed. He said he was going up to the study to do some work for about 45 minutes and he said he would see me when he was done ... he said then 'I'll come and tuck you in.'"

"I didn't think anything of it, it's just my father saying I'll tuck you in," she said but added that Zuma later entered the room and started massaging her shoulders.

She feigned sleep but when she opened her eyes, he was naked. He then forced himself on her, she said, and climaxed inside her, her voice breaking. Zuma looked on impassively during the testimony.

The woman said Zuma did not use a condom, adding that, as an AIDS activist, she would never engage in unprotected sex.

In the days after the alleged rape, she was contacted by Zuma's lawyer, her own family and a provincial ANC leader in the eastern Kwazulu-Natal province who offered her compensation if she dropped the charge.

"I felt very pressured," she told the court without saying how much money she was offered.

An an aunt also tried to convince her: ""She said I should just let go."

"She asked if I realised what this was going to do to the ANC... Could I imagine what this country would be like if Mbeki's people took over again," referring to Mbeki's dismissal of Zuma last June in a major corruption scandal that caused the ANC to split into pro-Zuma and pro-Mbeki factions.

The alleged victim said the case had been "totally devastating" to her and that she suffered a panic attack after reading a newspaper report that Zuma was planning to argue in court that they had an ongoing sexual relationship.

Outside court, a few hundred Zuma supporters thronged the tightly patrolled area, singing lustily and voicing their total backing for one of the country's senior most leaders from the majority Zulu race.

Meanwhile, women's groups held an all-night vigil at a nearby church and launched a "One in Nine Campaign" to show solidarity with victims of sexual violence.