Farmers want a 'land-leasing policy'
By Hu Yan (China Daily)
Updated: 2006-03-07 05:54
Deputies of the 10th National People's Congress (NPC) are calling for an increase in compensation to help farmers who lose their land to construction projects.
But the farmers themselves say a land-leasing policy will better protect their rights.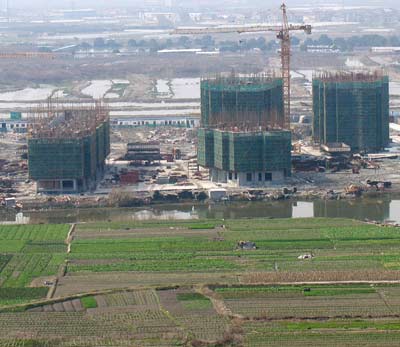 Buildings are erected beside cultivated land [newsphoto/file]
Land disputes are among the most common problems in the countryside, with many farmers sacrificing their most essential production resource to the construction of factories, roads or other public infrastructure.
In East China's Zhejiang Province, such disputes have seen a decline since 2003 after the provincial government applied a transparent land-expropriation process, built a social insurance system and provided training opportunities to farmers.
"To reform the land expropriation policy and improve the process are the key measures to protect the benefits of farmers," said Wang Jinsong, director of the provincial department of land and resources. He will make the proposal to revise the Land Administration Law.
After farmers are informed of the exact use their expropriated lands, open hearings are held in villages, where farmers may bring their disputes over compensation or negotiate with land users.
The annual output of the land is the basic evaluation measure under the Land Administration Law; usually farmers are compensated five to eight times the value of the land's production.
Farmers who lose their land, the village and the provincial government each contributes about one-third to the social insurance mechanism, which will pay farmers at least 200 yuan (US$25) monthly when they reach retirement age.
But farmers criticize such measures as stopgap and will not resolve their worries. "Once the land is expropriated and the money runs out, we do not have enough land left for our future generations," said NPC deputy Cheng Yangzhen, a farmer from Cixi of Zhejiang Province.
Cheng said farmers prefer to lease their land for a set term, such as 10 or 20 years, or they may become shareholders by investing in the facilities built on their land.
"The vital problem," Cheng said, "is to identify the rights of the farmers."
(China Daily 03/07/2006 page2)