Five-year plan addresses pressing problems
By Fu Jing (China Daily)
Updated: 2006-03-07 05:52
Higher income, affordable housing, better education and less pollution these are among the promises in the nation's 11th Five-Year (2006-10) Plan that the government's chief planner highlighted yesterday.
It is the first five-year plan that seeks all-round social and economic benefits for citizens instead of just economic expansion, said Ma Kai, minister of the National Development and Reform Commission, when he met the press during the annual session of the National People's Congress (NPC).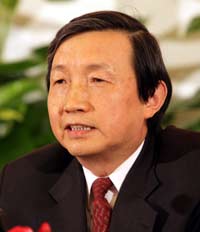 Ma Kai [newsphoto]

But he acknowledged that arduous efforts are needed to achieve the "ambitious and inspiring" goals.

According to the plan, the government will be in a better position to address citizens' problems when the gross domestic product (GDP) reaches US$3.2 trillion in 2010. By that time, the nation's per capita GDP will be around US$2,400, compared with US$1,700 in 2005.

Ma said that China's average urban per capita disposable income in 2010 would be 13,390 yuan (US$1,650), while rural per capita net income will be 4,150 yuan (US$511). But the gap between urban and rural income levels will still be as wide as it is now, despite the various policies being proposed to help the development of the countryside.

Lu Mai, secretary-general of the China Development Research Foundation, told China Daily: "What I hope, and what China can realistically achieve, is that the urban-rural income gap will not widen further."

At yesterday's press conference, Ma said about 45 million farmers will be trained to take up industrial jobs in five years.

Also, the central government plans to extend more financial support to improve rural drinking water supply, aiming to provide safe drinking water to 100 million residents by 2010.

The country will provide an additional 3.5 million rural households access to electricity.

With government funding, a cooperative medical scheme will cover more than 80 per cent of China's rural regions, in contrast with the meagre 23 per cent now.

Education is another focus of government spending in the next five years, with the proportion of education expenditure to GDP increasing to 4 per cent in 2010, from 3.41 per cent in 2002.

"It should be made clear that governments at all levels have the responsibility to provide public education, and support the development of the private education sector," the 11th Five-Year Plan says.

A major task is to promote and consolidate the nine-year compulsory education, especially in the vast countryside, according to the draft plan which is being discussed by the NPC deputies before voting.

On Sunday, Premier Wen Jiabao pledged that the government would eliminate all charges on rural students receiving nine-year compulsory education by the end of 2007.

The new policy, which requires an additional 218.2 billion yuan (US$27.27 billion) in central government budget expenditure over the next five years, is expected to benefit some 160 million school-age children in the rural regions.