Housing proposal met with skepticism
By Echo Shan (chinadaily.com.cn)
Updated: 2006-03-06 17:14
The ongoing CPPCC discussions have produced an interesting sideline. CPPCC adviser and well-known Chinese economist Lin Yifu has a different take on affordable mass housing construction planning, the Beijing News reports.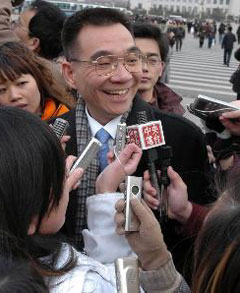 CPPCC adviser and well-known Chinese economist Lin Yifu answers questions from the press in Beijing on March 6, 2006 [sina]

Lin promotes a market-oriented, mid-level housing scheme nationwide. Prices would be based on the market rather than beforehand price fixing on the part of administration.

To further bolster his suggestion, Lin, also a professor with China's prestigious Beijing University, lists several professions he recommends for cash subsidies from the government on commodity house buying.

Those who make Lin's list include civil servants, teachers, and medical staff.

"Who has entitled Mr. Lin to compile the list?" heckles an outspoken online member, "One with a basic sense of social conscience would turn to the larger groups of workers who live on lower wages."

Public servants, teachers, and doctors make two to three times more than their manual labor counterparts nationwide, said a citizen nicknamed A Patriot, pointing out the scarce earnings of huge worker groups in towns and cities as well as underprivileged farmers in China's large rural areas.

"Workers with even less pay don't need housing? Who cares about their livelihood? Obviously professor Lin doesn't at all." added A Patriot.

China so far has 36 million who are supported mainly by public funds. A survey by ChinaHR.com shows social servants nationwide averaged an annual wage of 22,600 yuan in 2003 while Beijing residents, as a whole, made no more than 18,000 yuan on average in 2005.

In 2005 city and town dwellers' earnings surpassed those of the dominant rural population by 3.22/1 according to statistics released recently by the National Development and Reform Commission.

According to a recent survey conducted by FZORO, 67% of people polled called for urgent streamlining and downsizing of government staff.