Bloggers grapple with the profit motive
(New York Times)
Updated: 2006-03-06 16:13
Last October, a colleague persuaded Xu Jinglei, a Chinese actress and filmmaker, to start writing her own Web log.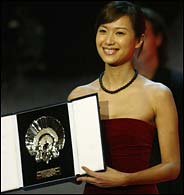 The actress and filmmaker Xu Jinglei, who won an award at the San Sebastian Film Festival in Spain for directing the movie "A Letter From an Unknown Woman," also writes a popular blog.

Now, five months later, Ms. Xu, 31, is the country's most popular blogger, and her runaway success has given rise to an online debate here about the economic value of blogs and who should profit from them.

Ms. Xu's blog has already received more than 11 million visitors. She now says companies have contacted her about placing advertisements on her blog.

But Sina.com, the big Chinese Web portal that puts the blog online, says it has no plan to commercialize its celebrity blog spaces.

The discussion is one of the latest signs that blogs could eventually become a highly profitable way of musing rather than simply a lonely stage for online blathering. There are already an estimated 30 million blogs worldwide, about 2 million in China alone. But almost none of them garner significant advertising revenue, and Internet executives are still unsure if blogging will become a powerful force in online commerce.

The debate here in China was touched off a few weeks ago when Ms. Xu ¡ª who is a well-known actress, screenwriter and independent film director ¡ª hinted in a television interview that she might be able to cash in on her blog's soaring popularity by selling advertising on the space.

In a telephone interview this weekend, however, Ms. Xu clarified her view, saying she was open to commercial opportunities but was not sure whether placing ads next to her blog was appropriate.

"I'd like my blog to be a comparatively quiet space," she said. "If there's some very good advertising idea, I'll consider it, but there's not right now."

Many people on the Web have sided with her right to profit from her blog, but executives at Sina.com, which is based in Beijing, say they have no plans for blog ads. Sina.com, which is listed on Nasdaq, had revenue of $194 million in 2005, including $85 million from advertising; it is the sixth-most-viewed Web site in the world.

"There's no commercial use of blogs on Sina today, and whether there's going to be in the future is not clear," said Meng Xiangpeng, a company spokesman.

Sina introduced many of its celebrity blogs late last year, and they are extremely popular. Movie stars, singers and even corporate executives are now blogging and seeing their blogs as a way to reach new audiences and even, perhaps, brand themselves.

Li Yuchun, the winner of China's "American Idol"-like contest "Supergirl," has a blog; so do Wang Shi and Pan Shiyi, two real estate tycoons.

Hung Huang, an irreverent magazine publisher and media darling, started her own blog on Sina.com last Valentine's Day. Within days, she wrote somewhat critically about her ex-husband, the director Chen Kaige, and his recent martial arts fantasy film, "The Promise," which has been parodied on the Web in China.

Suddenly, Ms. Hung's blog shot up to the top spot in Sina's daily poll of the most popular blogs.

No one, however, is as popular as the elegant and intellectual Ms. Xu (pronounced Shew), who became well known here as a television and movie actress soon after she graduated from the prestigious Beijing Film Academy in 1996. Later, she began directing and producing independent films, like her 2004 remake of the Austrian writer Stefan Zweig's novel, "A Letter From an Unknown Woman," which earned her the best director award at the San Sebastian Film Festival in Spain.

On her blog, Ms. Xu writes about her daily life, posts photos of meals, lists her favorite flower (the tulip), colors (black and white), and movies, and muses about philosophy, filmmaking and the economics of blogging.

"I may have some business sense, but very limited," she conceded in a recent blog entry.

"The only thing I'm concerned is to be a good writer. How to develop an economic model for the blog? I will leave such a confusing question to my colleagues and the I.T. elite."