Witherspoon walks her way to Oscar
(AP)
Updated: 2006-03-06 13:35
Reese Witherspoon walked all the way to the Oscar podium Sunday night, winning the best-actress award for her rich, radiant portrayal of June Carter in "Walk the Line."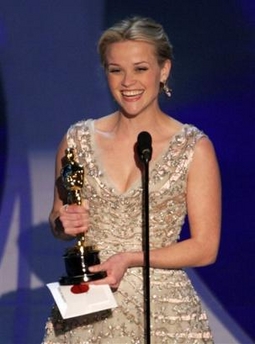 Actress Reese Witherspoon accepts the Oscar for best actress for her work in 'Walk the Line' at the 78th Academy Awards Sunday, March 5, 2006, in Los Angeles. [AP]


Witherspoon had long been the favorite for her performance in the Johnny Cash biopic, which required her to take intensive music and vocal lessons to play the country legend alongside the film's star, Joaquin Phoenix, who underwent similar training.

She'd already won Golden Globe and Screen Actors Guild awards, as well as top honors from critics groups in New York and Boston.

Witherspoon's closest competition came from Felicity Huffman, who underwent a striking physical transformation to play a pre-op transsexual in the road trip comedy "Transamerica." Huffman's performance defied the vampy glamour of TV's "Desperate Housewives," where she's one of the five stars, and earned her Golden Globe and Independent Spirit awards.

Also in the running were Judi Dench as a wealthy widow who stages a nude revue in "Mrs. Henderson Presents," Keira Knightley as the freethinking Elizabeth Bennet in "Pride & Prejudice" and Charlize Theron as a miner fighting sexual harassment in "North Country."