Hoffman bags Best-Actor Oscar
(AP)
Updated: 2006-03-06 11:55
Philip Seymour Hoffman won the best-actor Academy Award on Sunday for "Capote," in which he gives a remarkable embodiment of "In Cold Blood" author Truman Capote.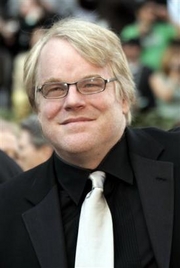 Philip Seymour Hoffman, nominated for an Oscar for best actor in a leading role for his work in 'Capote,' arrives for the 78th Academy Awards Sunday, March 5, 2006, in Los Angeles. [AP]

"Wow, I'm in a category with some great, great, great actors, fantastic actors, and I'm overwhelmed. Really overwhelmed," said Hoffman, whose performance nimbly straddles the magnetic qualities of raconteur Capote and the effete, off-putting egoism of the gay author.

Hoffman asked the Oscar audience to congratulate his mother for bringing up four children alone.

"We're at the party, mom," Hoffman said. "Be proud mom, because I'm proud of you."

Corporate thrillers earned the supporting-performer Oscars for George Clooney in "Syriana" and Rachel Weisz in "The Constant Gardener."

The win capped a remarkable year for Clooney, who made Oscar history by becoming the first person nominated for acting in one movie and directing another.

Along with performing in "Syriana," Clooney directed the Edward R. Murrow tale "Good Night, and Good Luck," which earned him directing and writing nominations and was among the best-picture contenders.

In "Syriana," Clooney effaced his glamour-boy looks behind the bearded, heavyset facade of a CIA patriot who grows jaded over U.S. oil policy in the Middle East.

"All right, so I'm not winning director," the first-time winner joked, adding that an Oscar always would be synonymous with his name from then on, including in his obituary. "Oscar winner George Clooney, sexiest man alive 1997, `Batman,' died today in a freak accident."

Clooney also lauded Oscar voters for their daring.

"This group of people gave Hattie McDaniel an Oscar in 1939 when blacks were still sitting in the back of theaters," Clooney said, referring to the supporting-actress winner from "Gone With the Wind," the first black performer to receive an Oscar.

In "The Constant Gardener," adapted from John le Carre's novel, Weisz played a humanitarian-aid worker whose fearless efforts against questionable pharmaceutical practices makes her a target for government and corporate interests in Africa.

Weisz thanked co-star Ralph Fiennes and director Fernando Meirelles, "and of course, John le Carre, who wrote this unflinching, angry story. And he really paid tribute to the people who are willing to risk their own lives to fight injustice. They're greater men and women than I."

Best-picture favorite "Brokeback Mountain," which led contenders with eight nominations, lost in both supporting-actor categories for Michelle Williams and Jake Gyllenhaal but picked up the Oscar for Gustavo Santaolalla's musical score.

The raucous hip-hop tune "It's Hard Out Here for a Pimp" from "Hustle & Flow," whose expletive-laden lyrics had to be toned down for performance at the Oscars, won the prize for best song. The song was written by the rap group Three 6 Mafia, aka Jordan Houston, Cedric Coleman and Paul Beauregard.

Featuring dancers dressed as hookers and pimps gyrating on stage, the song's performance stood in sharp contrast to the other nominated tunes and the general stateliness of the Oscars.

"You know what? I think it just got a little easier out here for a pimp," joked Oscar host Jon Stewart.

The stop-motion family tale "Wallace & Gromit: The Curse of the Were-Rabbit" won the Oscar for best animated feature film.

Co-director Nick Park, who also made the hit stop-motion film "Chicken Run," thanked voice stars Helena Bonham Carter and Peter Sallis, who has done the voice of cheese-loving Brit Wallace for 23 years, since the filmmaker came up with the character in his student days.

"You've been an absolute gem, Peter, and you've sparkled all the way," Park said.

The Antarctic nature tale "March of the Penguins," a surprise smash at the box office, was honored as best documentary.

"King Kong," from "Lord of the Rings" creator Peter Jackson, won three Oscars, for visual effects, sound mixing and sound editing. The Japan drama "Memoirs of a Geisha" earned Oscars for costume design and art direction, while the fantasy epic "The Chronicles of Narnia: The Lion, the Witch and the Wardrobe" was picked for best makeup.

South Africa's drama "Tsotsi," based on Athol Fugard's novel about a young hoodlum reclaiming his own humanity, won for foreign-language film, beating the controversial Palestinian terrorism saga "Paradise Now."

Clooney was one of the marquee names among a lineup of acting nominees heavy on lesser-known performers. And with a best-picture field of lower-budgeted films that drew smaller audiences than the commercial flicks that often dominate the Oscars, the question was whether Hollywood's big awards night could lure TV viewers.

Oscar organizers hoped new host Stewart and the cultural buzz over front-runner "Brokeback Mountain" would beef up viewership.

The Oscars generally lure their biggest audiences in years when blockbusters such as "Titanic" or "The Lord of the Rings: The Return of the King" are favored to win.

"Brokeback Mountain," though, has become a phenomenon far beyond those who have actually seen it, entering the pop-culture psyche with its tale of cowboys in love (best-actor nominee Heath Ledger and Jake Gyllenhaal, who had been among supporting-actor nominees).

The show began with reprise visits from former Oscar hosts Billy Crystal, Chris Rock, Whoopi Goldberg, Steve Martin and David Letterman, in which they all turn down offers to do the show again. Crystal and Rock did a "Brokeback Mountain" spoof, the two sharing a mountainside tent like the cowboys in the film and begging off as hosts, saying they were too busy.

Stewart used best-picture nominee "Capote" to set up a "Brokeback Mountain" wisecrack, saying the film "showed America not all gay people are virile cowboys. Some are actually effete New York intellectuals. It's true."

"Brokeback Mountain" won top prizes at earlier Hollywood honors including the Golden Globes and was expected to earn best picture at the Oscars and the directing trophy for Ang Lee, who would be the first Asian filmmaker to receive that award.

Yet the ensemble drama "Crash," featuring a huge cast of characters in multiple story lines playing out over a chaotic 36-hour period, was a strong dark-horse contender to pull a best-picture upset.

Along with "Crash," "Brokeback Mountain" and "Capote," the other best-picture nominees were "Good Night, and Good Luck" and the assassination thriller "Munich."