Taiwan opposition leader to visit US
(AFP/chinadaily.com.cn)
Updated: 2006-03-06 09:01
Taiwan's opposition leader Ma Ying-jeou is to visit the United States, a spokesperson said, amid rows with Washington over the island's slow progress towards a big arms deal and growing tension across the Taiwan Straits.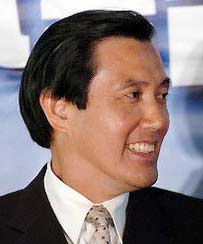 Taiwan's opposition leader Ma Ying-jeou smiles during a press conference in Taipei, December 2005. [AFP]

Taipei Mayor Ma will depart March 16 on his first US visit since he was elected chairman of the Kuomintang (KMT) last year, party spokeswoman Cheng Li-wen said.

"Hopefully the trip will help step up understanding with the United States," she said, declining to provide details.

Local newspapers have said the KMT, which with its allies controls "parliament", is likely finally partially to approve a controversial US$10 billion arms deal with the United States.

Washington has reportedly warned that its ties with Taipei may be damaged should the party continue to block the arms deal.

Taiwan's ruling party initially sought approval for a US$19 billion arms package to be purchased over 15 years, but has since scaled back the amount.

The latest version of the arms bill calls for the purchase of eight conventional submarines, 12 P-3C submarine-hunting aircraft and six PAC-3 Patriot anti-missile systems from the United States.

Analysts said however that since the opposition lawmakers remain doubtful about the price tag for the submarines, their fate is still unclear.

The opposition has strongly opposed the Patriot purchase, saying Taiwanese voted against expanded arms purchases in a referendum in March 2004.

Ma plans to meet New York Mayor Michael Bloomberg on March 19 before delivering a speech to his alma mater Harvard University, the United Daily News said.

Rising tension across the Taiwan Straits, sparked by the Taiwan authorities' scrapping of an advisory council on unification with the Chinese mainland, is also expected to be discussed when Ma addresses think-tanks in Washington and Los Angeles.

Taiwan leader Chen Shui-bian, a long-time advocate of independence, defied pressure from Beijing and Washington last month to formally close down the advisory council and scrap accompanying guidelines on reunification.

The move infuriated Beijing, which accused the Taiwanese leader of pushing the region towards disaster.

President Hu Jintao last Tuesday called Chen's decision "a dangerous step forward towards Taiwan independence."

Hu warned that "anyone who moves against the trend of history is doomed to failure."

Premier Wen Jiabao echoed Hu's remarks Sunday in his work report to the National People's Congress.

He said that anybody who acts against people's wishes for peaceful and stable relations across the Taiwan Straits is bound to meet failure.