Wen pledges prosperity for all
By Xing Zhigang (China Daily)
Updated: 2006-03-06 05:37
Premier Wen Jiabao yesterday pledged to spread prosperity to all while placing the plight of the rural poor and people's well-being on top of the government's agenda.
To wide applause from the nearly 3,000 deputies to the National People's Congress (NPC), Wen outlined concrete steps to deal with problems related to the vital interests of the people, ranging from education, housing and medical service to employment.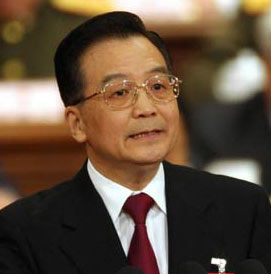 Chinese Premier Wen Jiabao delivers a speech during the opening of the National People's Congress at the Great Hall of the People in Beijing March 5, 2006. The Premier promised a economic growth rate of 8% for 2006, and a massive US$420b spending to improve the rural sector. [Xinhua]
In his government work report delivered on the opening day of the annual session of the top legislature at the Great Hall of the People, Wen warned of economic and social imbalances.
"We need to pay closer attention to balancing development between urban and rural areas... and promote social equity and social stability to ensure all the people can enjoy the fruits of reform and development," he said.
His call was apparently in response to the widening wealth gap, which threatens the nation's goal of building a harmonious society, following an annual growth of above 9 per cent over the past two decades.
The country's current Gini coefficient an international measurement of income disparity is estimated to have approached the danger level of 0.4.
In a two-hour, nationally-televised address, the premier vowed to maintain "fast yet steady" economic development this year and set a modest growth target of 8 per cent for the country's gross domestic product.
Last year, the government's target was also 8 per cent but actual growth reached 9.9 per cent.
The premier, known for his pragmatism and common touch, appeared cautious in setting out government goals for the coming year.
"While acknowledging our success, we must also see clearly that there are still many difficulties and problems in economic and social life," he said.
"Many long-standing and deep-seated conflicts have yet to be fundamentally solved, and a number of new problems have arisen that cannot be ignored."
A large section of Wen's 35-page speech was devoted to the government's plans to build a "new socialist countryside," home to nearly 800 million farmers suffering stagnant income growth.