Arroyo's emergency order faces legal challenge
(Reuters)
Updated: 2006-02-28 13:45
MANILA (Reuters) - Philippines President Gloria Macapagal Arroyo's emergency rule faced challenges in the Supreme Court on Tuesday as police geared for more arrests of leftists and soldiers the president says conspired to topple her.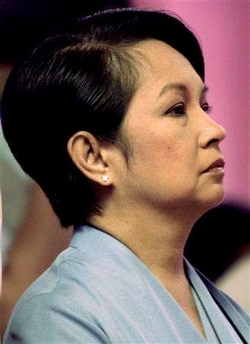 Philippines President Gloria Macapagal Arroyo attends a mass at a Catholic church in Manila, February 26, 2006. Arroyo tightened the net around suspected coup plotters and opposition newspapers on Sunday amid criticism that the state of emergency declared last week smacks of Marcos-era martial law. [Reuters]
Arroyo, who survived an attempt to impeach her last year over allegations of vote-rigging and corruption, says the situation is under control but has not spelled out the duration of the state of emergency invoked on Friday with broad powers of detention.
"Maybe within a week's time we will lift the emergency," a senior defense official told Reuters.
"We're aware that it's causing some jitters. We're going to recommend the lifting as soon as the threats are gone or brought to a more manageable level."
Radio station DZMM reported a Marine colonel was removed for leading a protest on Sunday by about 100 of the elite force's soldiers at a Manila base over the replacement of their commander in connection with the plot.
Police have filed rebellion cases against at least 16 people, two of them arrested already. A pro-opposition newspaper has been threatened with closure after being raided on Saturday.
At least 51 communist rebel chiefs and leftist leaders face a separate set of rebellion charges.
The president's economic team is anxious to have the order lifted as soon as possible to avoid damaging recent improvements to the fiscal picture, though the streets are quiet and financial markets have more than recovered from the shock of last Friday's announcement of the coup plot.
The peso was around 51.70 to the dollar on Tuesday morning, stronger than its close at 51.96 on Monday and 52.20 on Friday. The main stock index was up 1.65 percent.
The Supreme Court started considering several petitions by groups arguing that the president's order was unconstitutional, but Supreme Court spokesman Ismael Khan said the justices would need time to hear comments from all sides.
Court officials said the government had been asked to respond by next Monday and a full hearing would open the following day.