Afghan prison peaceful after deadly riot
(AP)
Updated: 2006-02-28 09:21
Rebellious inmates at Kabul's main prison agreed Monday to halt violence, and authorities said they restored supplies of water, electricity and food to the prisoners after four people were killed and 38 wounded in the two-day uprising.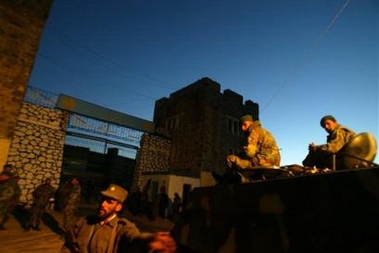 Soldiers of the Afghan National Army stand guard outside the main gate of the Policharki Prison in Kabul, Afghanistan, Monday, Feb. 27, 2006. Security forces with tanks and heavy guns surrounded Kabul's main prison Monday, as authorities sought to resume negotiations with rioting prisoners but warned they could use force. [AP]
The supplies were withheld late Sunday from the roughly 2,000 prisoners in the facility, including women and their children, even though the violence was blamed only on some 350 Taliban and al-Qaida detainees.
Although the agreement to stop rioting was only temporary, officials said they were optimistic about a breakthrough in negotiations with the inmates.
"The food, water and electricity has been restored. For the time being, I am optimistic. Everything is quiet. Let's see what happens tomorrow," said Abdul Salaam Bakshi, chief of prisons in Afghanistan.
Hundreds of police and soldiers circled the sprawling Policharki jail on the outskirts of the Afghan capital, Kabul, in tanks and with other heavy weapons late Sunday.
Gunfire rang out from inside the facility until late Monday, when news broke of progress in the talks. Within hours, truckloads of police withdrew. Many remaining soldiers lounged on the ground, sipping tea and smoking cigarettes as the tension eased.
The prisoners are believed armed with small knives and clubs fashioned from wrecked furniture, but do not have guns.
Sibghatullah Mujaddedi, the chief government negotiator, said the prisoners told him that "they would not launch any more attacks right now." He declined to elaborate.
"I promised them I would do my best to solve their problems, and they trust me," he told reporters outside the prison.
Mujaddedi said the negotiators reached an agreement with the prisoners for the wounded inmates to be taken to a hospital, but it was not clear when this would happen. He also said prison authorities were asked to help bury the dead inmates, but did not elaborate further.
During the talks, the prisoners made a range of demands, including an amnesty for an unspecified number of inmates, Mujaddedi said.
A purported spokesman for the prisoners called The Associated Press and demanded new trials for the inmates, claiming many were innocent or their sentences were too long.
"Two-thirds of the prisoners here are innocent. The courts were unfair," said the man, who identified himself only by the name Maqsodi and said he was calling from inside one of the seized prison blocks. It was not possible immediately to confirm the man's identity.
Feruza Kahiastani, a member of the Afghan Independent Human Rights Commission, told AP after meeting the prisoners that she was also optimistic of a breakthrough, but warned "it could take a long time."
Bakshi said no deadline had been set for a deal to be reached.
Mohammed Qasim Hashimzai, the deputy justice minister, said before Monday's negotiations started that he wanted to end the standoff peacefully, but warned that the government could use force.
"We can take all these prisoners in one hour," he said. "But to prevent bloodshed we are trying to negotiate."
Kahiastani said reports that some of the 70 female inmates had been kidnapped was wrong. She said a number of women prisoners had willingly joined their male counterparts, but later returned to their own prison block.
About 70 of the women's children also live in the block. Bakshi said none had been hurt.
Violence erupted late Saturday after prisoners refused to put on new uniforms, delivered in response to a breakout last month by seven Taliban prisoners who had disguised themselves as visitors.
Policharki was built in the 1970s and has earned notoriety for its harsh and crowded conditions. But the jail is under renovation ahead of the expected arrival of some 110 Afghan terror suspects later this year from the U.S. military prison at Guantanamo Bay, Cuba.
Riots and breakouts have cast doubts over its readiness.
In December 2004, four inmates and four guards died during a 10-hour standoff that started when some al-Qaida militants used razors to wrest guns from guards and then tried to break out. Afghan troops stormed the prison and fired guns and rocket-propelled grenades to retake control.