Saudi forces kill suspects tied to attack on refinery
(Reuters)
Updated: 2006-02-28 09:05
Saudi forces on Monday killed five suspected militants believed to be linked to an al Qaeda attack on the world's biggest oil processing plant, the Interior Ministry said.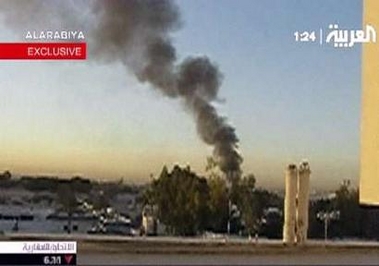 A video grab shows smoke emerging from the location of the shootout which erupted at dawn after Saudi security forces besieged suspects in a villa in east Riyadh February 27,2006. [Reuters]



A shootout began at dawn after security forces besieged suspects in a villa in east Riyadh where several Western residential compounds are located.

An official statement said five men were killed and one other suspected militant was arrested elsewhere in the capital.

"Early this morning security forces stormed a building in east Riyadh which a criminal gang was using as a center for attacks and corruption," it said. "All five were killed after an intense exchange of fire."

The shootout took place days after al Qaeda suicide bombers tried to storm the Abqaiq oil facility in the first direct strike on a Saudi energy target since the militant group launched attacks aimed at toppling the U.S.-allied monarchy in 2003. The kingdom is the world's biggest oil exporter.

The men were hiding in a villa in a newly developed residential district near the al-Hamra area where several Western housing compounds are located, security sources said.

Security sources said police had tracked down the militants after pursuing two vehicles that appeared on the surveillance video of the Abqaiq facility shortly before it was attacked.

One source said the men were also traced through Internet monitoring. Internet statements issued at the weekend said al Qaeda was behind the Abqaiq attack.

Interior Ministry spokesman Mansour al-Turki told Reuters police seized a large cache of explosives at the villa and that the suspected militant was being interrogated. He declined to say if he was on a list of most wanted al Qaeda fugitives.

Witnesses in Riyadh said they heard heavy gunfire and what appeared to be mortars as security forces surrounded the suburb and sealed it off before dawn.

"Around the time of dawn prayers, we heard the sound of shots and saw the sky light up. Then a short time later there were heavy explosions," journalist Odwan al-Ahmari, who lives in the area, told Reuters. The clashes trapped about two dozen worshippers in a mosque, he said.

The shootout ended after about two hours with the deaths of all of the men inside the building, the security sources said.

QAEDA WEAKENED

The Saudi wing of Osama bin Laden's network has been weakened by a government crackdown in which its leaders have either been killed or arrested.

The Abqaiq strike was the first major attack by militants opposed to the Saudi monarchy since suicide bombers tried to storm the Interior Ministry in Riyadh in December 2004.

Saudi Arabia's top cleric, a central figure in the state propaganda war against militants, condemned the Abqaiq attack as an attempt to destroy the livelihood of millions of Muslims.

"First they wanted to kill infidels and expel them from the Arabian Peninsula ... Now the devil has led them to target the public and private wealth of Muslims," said Grand Mufti Sheikh Abdulaziz al-Sheikh in a statement read on state television.

Authorities say two of the bombers were on a list of top wanted al Qaeda-linked Islamic militants issued last year. Al Qaeda had previously identified them in an Internet statement posted on Saturday and vowed more attacks.

In 2005, Saudi Arabia raised its oil security budget by about a fifth to around $1.55 billion, security adviser Nawaf Obaid said. A total of 35,500 security personnel guard the country's oil installations.

An Interior Ministry statement said the suicide bombers in Abqaiq had used two tonnes of explosives in their foiled attack, which caused a huge explosion at the gate of the facility.

Security analyst Faris bin Houzam said only four of the 36 suspects on a most wanted list remained at large in Saudi Arabia. He said many of those on the list were believed to have joined insurgents fighting in Iraq and some may be dead.

The men killed on Monday have not yet been identified.

"This is not a new generation," he said, referring to the latest incidents. "It's clear that these are people the security forces have been tracking over the past two years."