Kidnapped reporter said to be OK
(AP)
Updated: 2006-02-28 08:56
BAGHDAD, Iraq - The Iraqi Interior Minister believes that kidnapped American journalist Jill Carroll remains alive, his office said on Monday, one day after the deadline set by her captors for killing her.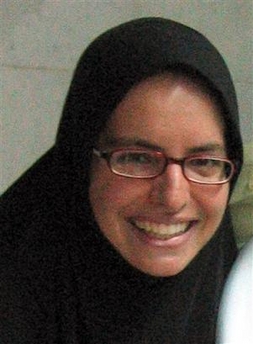 Freelance writer Jill Carroll is shown in this Sept. 5, 2005, file photo provided by the Christian Science Monitor. Iraqi police said they had found no trace of abducted American journalist, who has been held hostage in Iraq since Jan. 7, as the deadline set by her kidnappers for killing her passed at midnight Sunday, Feb. 26, 2006, with no word on her fate. [AP]
In an interview with ABC, the interior minister, Bayan Jabr said he knew who abducted the 28-year-old freelance reporter for The Christian Science Monitor on Jan. 7.
"We know his name and address, and we are following up on him as well as the Americans," Jabr told ABC. "I think she is still alive."
U.S. Ambassador Zalmay Khalilzad told Fox television he had heard the same news from Jabr.
"He said that based on the information that he has, that she is alive," Khalilzad said. "We are doing all that we can to help bring about a release and will persist with that. But the minister announced today that he's optimistic about her release."
Carroll was last seen in a videotape broadcast Feb. 9 by the private Kuwaiti television station Al-Rai.
Station owner Jassem Boudai said then that the kidnappers had set Feb. 26 as the deadline for U.S. and Iraqi authorities to meet their demands or they would kill her.
The kidnappers, a formerly unknown group calling themselves the Revenge Brigades, have publicly demanded the release of all women detainees in Iraq, but Boudai indicated the group provided more specific conditions that he refused to reveal.
On Sunday, an Iraqi Interior Ministry official said an extensive search was under way for Carroll.
"Our forces raided some suspected places, but she was not there," Maj. Falah al-Mohammedawi said. "We are watching the situation closely."
Iraqi television has aired three videos of Carroll since her kidnapping. In the first, shown on Al-Jazeera on Jan. 17, her abductors threatened to kill her unless the United States freed female prisoners in Iraq.
The first and second videos were broadcast without sound. In the second, aired on Al-Jazeera, the broadcaster said Carroll asked for the release of the female prisoners.
Also Monday, the U.S. military announced in a statement it had released about 390 male detainees.
A review committee consisting of U.S. and Iraqi officials from the ministries of human rights, justice and interior, recommended the prisoners be released after finding no reason for their continued imprisonment.
The Combined Review and Release Board has reviewed the cases of more than 29,500 detainees at coalition facilities, including Abu Ghraib in Baghdad, Camp Bucca near the southern port of Umm Qasr and Fort Suse in the northern Sulaimaniyah area. More than 15,300 have been recommended for release, the statement said.