The writing's (on the Net) on the Wall
(China Daily)
Updated: 2006-02-28 05:41
The burly man delicately places his right elbow on the arm of the chair but the pain hasn't gone away.
As a police officer who has worked in Beijing for almost 25 years, he has suffered his share of injuries in clashes with culprits; this one, though, was the result of an accident during a visit to an undeveloped section of the Great Wall.
"The injuries, the bleeding and the twisted ankles are very common," he said. "We still go on the adventures."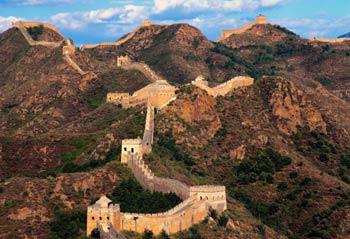 A view of the Great Wall [newsphoto/file]
He obviously believes the good work that he and his friends do is worth all the hazards.
A director of an on-campus police station at Peking University, Hong Feng, 44, is better known for his volunteer work towards Great Wall protection. He uses the name Shishu on www.thegreatwall.com.cn a website where he and a group of other equally passionate volunteers share an interest in the ancient structure.
Hong reads extensively about the Wall and posts regularly on the website. But more than that, he and his Internet friends take trips on weekends to less-visited sections of the Great Wall in and around Beijing to inspect sites damaged or collapsed because of inadequate protection.
They face challenges such as getting lost in mountainous terrain at night, the threat of wild animals and accidental wounds. Through it all, their fervour for the culture of the landscape has never dampened.
The Great Wall, built originally as a military structure, holds great significance for the Chinese.
In imperial times, it served as the division between territories, cultures, military forces and different lifestyles. Now it is probably the most widely recognized symbol of the country's spirit.
But apart from a number of sections including Badaling, Simatai and Mutianyu, which have been renovated and are open to visitors much of the Wall is threatened by both natural destruction and lack of maintenance. Graffiti and rubbish are only some of the eyesores hotels and homes are also springing up alongside.
Realizing the increasing dangers to its preservation, insightful and enthusiastic individuals from China and overseas are showing their concern. One place they get together to do that is the website, known as Changcheng Xiaozhan, or the "Little Site of the Great Wall."
The site, founded in 1999, provides stories and pictures related to the Wall. Beyond spurring public education initiatives and protection via networks, photo exhibitions and other modern means, the site encourages research of the Wall and offers a bulletin board for information sharing and discussion.