Giant pandas free gifts for Taiwan: official
(Xinhua)
Updated: 2006-02-27 12:53
The giant panda couple Tuan Tuan and Yuan Yuan are free gifts for Taiwan compatriots, a mainland official reiterated in Beijing Monday.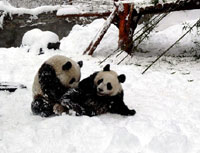 Giant pandas Tuan Tuan and Yuan Yuan play in the Wolong Giant Panda Breeding Center in Southwest China's Sichuan Province in this February 21, 2006 photo. [Xinhua]

Jia Zhibang, director of the State Forestry Administration (SFA), at a press conference denied Taiwan media reports saying that any Taiwan organization, which hopes to accept and raise the giant panda couple, needs to pay the mainland 35 million yuan (about 4.3 million U.S. dollars) annually, and described the reports as groundless.

Jia said, "We have made it clear that the giant panda couple, to be presented to the Taiwan compatriots, is a goodwill gift from the mainland compatriots, it's free and unconditional."

"We are also glad to offer free assistance in building living places for the panda couple and provide technical support for raising the panda couple," Jia said.

To help Tuan Tuan and Yuan Yuan to reproduce offspring in Taiwan, the mainland is also ready to facilitate exchanges of germplasm for giant pandas, Jia said.

Giant pandas are national treasure and are deeply loved by compatriots from both sides of the Taiwan Straits, said Zhuo Rongsheng, head of the Wildlife Department of the SFA.

Presenting a pair of giant pandas to Taiwan compatriots reflected the profound friendship the mainland compatriots have shown to Taiwan compatriots, Zhuo said.

We hope that Taiwan authorities concerned would fully consider the earnest hope of Taiwan compatriots and take a cooperative attitude on the issue of the giant panda couple, so that the panda couple could go to Taiwan soon, Zhuo said.