Incoming Hamas chief wants political truce
(AP)
Updated: 2006-02-27 09:11
GAZA CITY, Gaza Strip - The Palestinians' incoming prime minister said Sunday that Hamas is interested in a long-term truce with Israel but has no intention of seeking a formal peace agreement that would recognize the Jewish state.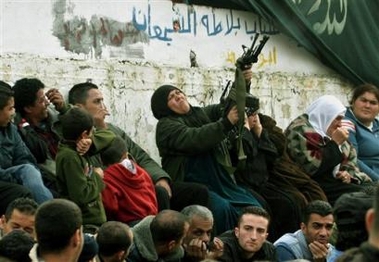 A Palestinian woman shoots in the air durimg a rally of Al Aqsa Martyrs' Brigades in the Balata refugee camp the West Bank city of Nablus Sunday Feb 26, 2006. The Palestinians' incoming prime minister, Ismail Haniyeh, on Sunday said Hamas has no intention of seeking a peace agreement with Israel, distancing himself from a published interview in which he said the militant group is ready for a deal with the Jewish state. [AP]
Also on Sunday, Israel's acting foreign minister said Palestinian leader Mahmoud Abbas is "not relevant" because of the election victory by the militant group Hamas.
Israel and the U.S. consider Hamas, winner of January's Palestinian elections, a terror group. Hamas does not recognize the existence of a Jewish state in the Middle East and has sent dozens of suicide bombers into Israel, killing hundreds.
Ismail Haniyeh ¡ª the incoming Palestinian prime minister ¡ª on Sunday denied saying Hamas would consider peace with Israel under certain conditions.
Haniyeh was quoted by The Washington Post in its Sunday edition as saying Hamas would establish "peace in stages" if Israel would withdraw to its 1967 boundaries ¡ª before it captured the West Bank, Gaza Strip and east Jerusalem.
But Haniyeh told reporters that his comments had been misunderstood. He said he was not referring to a peace agreement, only a "political truce." Hamas official Sami Abu Zuhri told The Associated Press that Haniyeh's comments must have been mistranslated.
Haniyeh has demanded that Israel make a full withdrawal from lands captured in the 1967 Mideast war, release Palestinian prisoners and the return of several million Palestinian refugees and their descendants to Israel.
"Then Hamas can grant a long-term truce," Haniyeh said.
Israel has turned down the demands. While accepting the principle of an independent Palestinian state, Israel has said that it has no intention of returning to its prewar borders or accept return of refugees.