Six months after Katrina, emotional toll still high
(AFP)
Updated: 2006-02-26 15:01
Every time New Orleans gets a hard rain, Gabriel Black drives to the levee to see how high the water has risen.
It has been six months since he stood guard in the lobby of the hotel his wife managed, using the flashlight mounted on his shotgun to fend off looters who rattled at the glass doors as his daughters slept uneasily upstairs.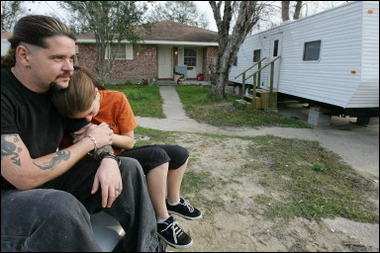 Gabriel Black sits with his daugther Stevi, 14, outside his rented home and trailer in Metarie, Louisiana, just outside New Orleans. It has been six months since he stood guard in the lobby of the hotel his wife managed, using the flashlight mounted on his shotgun to fend off looters. But, like many others in the area, he has not been able to let go of the fear, the anger, the pain.[AFP]
Six months since he carried a man who had been savagely beaten to the Convention Center, only to be told by police that there was nothing they could do but let the man die.
Six months since his faith in his country was shattered.
But he has not been able to let go of the fear. And the anger. And the pain.
"I don't go out of my house a lot," he said as he sat behind his computer, his once muscle-bound frame softened by the loss of 28 pounds (13 kilograms). "I can't stand to be in crowds. It makes me very nervous."
"I definitely don't sleep. I sleep four hours at a time," said Black, 36. "My daughters go to bed, I'm awake. They wake up, I'm awake. I'm always awake."
As New Orleans struggles to rebuild entire neighborhoods destroyed by the floodwaters of Hurricane Katrina, many of those who were caught in its wake are still struggling to rebuild their lives.
Shortly after the storm ravaged the Gulf coast on August 29, the US Department of Health and Human Services estimated that 500,000 people could be in need of mental health services.
But the trauma did not end when the winds died down, said Ann Wilder, a counselor with the New Orleans Mental Health Resilience Team.
That was because human beings require a certain level of stability and control over their lives.
And nothing is normal in New Orleans.
Friends and neighbors remain scattered across the country. Many of those who have returned are living in cramped trailers or staying with relatives who never expected them to be there for so long.
Deadened traffic lights have been replaced with stop signs. Houses that were knocked off their foundations by the floodwaters remain crumbled in the middle of the street. Grocery stores have limited hours. Favorite restaurants remain closed.
"If we can't get to our normal places we live in survival mode, never moving to thrive and we physically live in a fight-or-flight response," Wilder explained.
"People come in for chest pains, they come in for vomiting, aches and pains and we know the secondary reason is depression and anxiety."
For Black, and so many others scattered across the Gulf Coast, a secondary trauma came weeks after the storm with the slow realization that the help he expected simply was not going to come.
First, it was his landlord.
While his wife managed a hotel full of recovery workers and his daughters stayed with family in Georgia, Black yanked out carpets, bleached the walls and pulled broken tree limbs off his roof.
And after promising to compensate him for the work, Black's landlord charged him full rent. And he still has not fixed the hole in the roof or replaced the walls that are leeching black mould.
Then there was the Federal Emergency Management Agency.
It took until December for a trailer to arrive and three more weeks for the officials to give him the key. It took until February for financial assistance to arrive.
The politicians may have been the worst.
Instead of pulling together to fix the problems, they pointed fingers. And they tried to pretend that reports of violence Black saw with his own eyes were exaggerated.
Black could not go back to work as an air conditioning technician. Instead, he has started working as a freelance photographer and has taught himself how to create Gothic photo illustrations by meticulously blending images on his computer.
"I've found it's been very therapeutic for me. I'm able to express things in my artwork that get rid of some of those things," he said as he scrolled through Gothic images that included a self-portrait entitled "Rage", showing his mouth full of sharp fangs.
"It comes out dark but there's always some beauty in it."