Al-Qaida vows attacks after Saudi oil raid
(Associated Press )
Updated: 2006-02-26 11:01
Al-Qaida on Saturday vowed more attacks a day after an attempt to bomb the world's biggest oil processing complex showed the group still can strike inside Saudi Arabia despite the arrests of hundreds of suspects.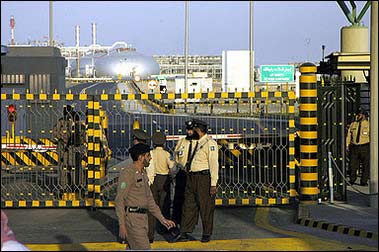 Saudi security men stand at the entrance of the oil processing plant of the state oil giant Aramco in Abqaiq, in the oil-rich Eastern Province. The Saudi branch of the Al-Qaeda network vowed to carry out more attacks on Saudi oil installations, according to an Internet statement posted. [AFP]
A strike on the Abqaiq complex, near Saudi Arabia's eastern Persian Gulf coast, could have been devastating. Nearly two-thirds of the country's oil flows through the facility for processing before export.
Foiling the attack demonstrated Saudi Arabia's success in putting tough security around the oil industry, the source of the royal family's wealth, oil analysts said.
Two suicide bombers in explosives-packed cars traded fire with police at a checkpoint before a gate in the first of three fences around the sprawling, heavily guarded complex. One bomber collided with the closed gate, exploding and blowing a hole in the fence, a senior Saudi security official said.
The second bomber drove through the hole before police opened fire, detonating his car, the official added on condition of anonymity because of the sensitivity of the issue.
Witnesses on Friday reported that security forces traded fire with gunmen outside the facility after the explosions and that a hunt for attackers continued for hours. Saudi officials have not reported the capture of any assailants.
At least two attackers and two security guards were killed, the state news agency reported. Eight foreign workers at the facility ¡ª all from South Asia ¡ª were wounded, a former Aramco employee told The Associated Press on condition of anonymity. Aramco is the state oil company that owns the facility.
It was the first attack on Saudi Arabia's vital oil infrastructure. The Saudi branch of al-Qaida, which claimed the attack, warned in an Internet statement Saturday that suicide bombers will target more oil facilities.
"There are more like them who are racing toward martyrdom and eager to fight the enemies of God," the posting said. "You will see things that will make you happy, God willing."
In a later statement, the group said it carried out the attack "based on the instructions of our leader, Osama bin Laden" and identified the two slain suicide bombers as Abdullah Abdul-Aziz al-Tweijri and Mohammed Saleh al-Gheith.
It denied that the bombing was foiled and gave its own account of the attack. It claimed that Al-Qaida fighters overcame guards at the gate, killing three and forcing others to flee. The fighters then opened the gate for a car that entered and blew up, it said, without specifying what the blast targeted.