Europe moves to halt bird flu spreading
(Reuters)
Updated: 2006-02-16 09:58
New alarm bells over bird flu rang out in the heart of Europe on Wednesday, prompting governments to step up efforts to prevent a potentially devastating outbreak of the deadly H5N1 strain of the virus.

Germany became the fourth European Union country to detect H5N1, saying additional tests on two dead swans had confirmed its presence, first shown by preliminary results on Tuesday. Authorities later said they had also found the virus in a hawk.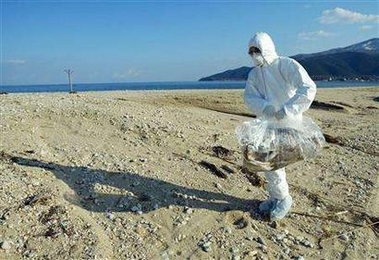 A Greek health official carries a dead swan from a beach of Stavros town in northern Greece, some north of Athens, February 12, 2006. [Reuters]

"Unfortunately it has been confirmed that the swans were infected with H5N1 from Asia," Reinhard Kurth, head of the Robert Koch Institute, told German television. "We have no doubts whatsoever any more."

Other European countries, including Hungary, tested samples from wild birds for the virus that can kill humans in its highly pathogenic form. Bird flu is highly contagious among poultry.

Russia, which first reported H5N1 in poultry last year, and Italy, which found its first cases at the weekend, reported new incidents of the virus. Italy's were in wild swans, while Russia's were at a battery farm in the Caucasus.

The virus has already penetrated some industrial chicken farms in Russia, resulting in mass culling, and it is fear of a similar situation developing in the EU that has led governments to introduce tight controls over domestic poultry.

Preliminary tests showed no signs of bird flu in three dead swans found on a Baltic beach in the northern Polish city of Krynica Morska, local authorities said.

DEVASTATING VIRUS

Transmission of H5N1 to domestic flocks could be devastating for the EU's 20 billion euro ($24 billion) poultry and egg industry. The Netherlands had an outbreak of a different strain of bird flu in 2003 that led to the culling of 30 million birds, more than a third of the flock.

Measures being taken to stop the spread of the virus include bans on keeping poultry out of doors. Germany brought forward such a ban to February 17, while the Netherlands said it was considering a similar move.

"We must stress the message that bird flu has been found in wild birds only and not in farm animals," said Thomas Janning, a spokesman for German poultry industry association ZDG.

The EU banned all imports of untreated feathers until the end of July.

Experts have said the virus could spread further into Europe shortly in spring when migrating birds return after wintering in Africa.

In Africa, where experts say the risk of transmission to humans is higher than in other regions because millions of people live in close contact with domestic birds, Nigeria reported more suspected outbreaks in birds.

At present, humans can contract bird flu only through close contact with an infected bird, but experts fear H5N1 may mutate into a form that can spread between people and cause a pandemic that could kill millions.

Highly pathogenic H5N1 has killed at least 91 people in Asia and the Middle East, according to the World Health Organization. There have been no human infections in Africa or Europe.

NIGERIAN QUARANTINE

Implementation of preventive measures in Nigeria has been slow in some places but a top veterinary expert said farmers were starting to abide by quarantine rules because the government had confirmed it would pay them compensation.

"Initially it was the panic selling that made it spread. Animals were being moved from farms so that farmers wouldn't lose everything," said Lami Lombin, director of the laboratory testing poultry samples.

Neighboring Niger sent health experts, vets and soldiers to help protect the 1,500 (900 mile) border as fears rose that the virus could spread. For farmers in one of the world's poorest nations, the consequences of an outbreak were frightening.

"I am very worried because the death of one chicken could destroy my entire capital," said chicken farm owner Hamani Labo.

Senegal said it would host a regional conference next week for trade and livestock ministers of the Economic Community of West African States (ECOWAS), aimed at forging a concerted effort in combating the spread of the virus.