Three Chinese engineers killed in Pakistan
(Xinhua)
Updated: 2006-02-16 09:37
Three Chinese engineers were killed by gunmen in Southern Pakistan, the Ministry of Commerce confirmed Thursday morning.
The victims, Long Hongbao, Wei Jianpin and Zhao Bin, were shot along with other three colleagues when their car were attacked by gunmen on a road in the town of Hub, some 700 km southeast of Quetta, the Balochistan provincial capital.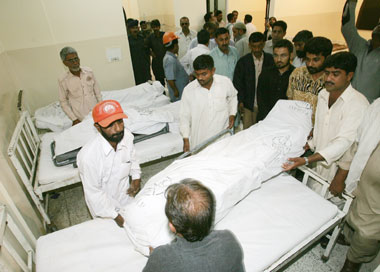 Bodies of the Chinese workers are brought to a hospital after a shooting incident in the Pakistani town of Hub, near Karachi, February 15, 2006. Pakistani separatist gunmen killed three Chinese workers and their driver in a drive-by shooting in southern Pakistan on Wednesday. [Reuters]

The engineers were working for a Chinese company to prepare equipments and offer technical service for the construction of a local cement factory which will be accomplished in the first half of this year.

Chinese diplomats in Karachi then led the other 11 Chinese engineers in the project into the Chinese consulate and helped take the victims' bodies back to Karachi, according to the Ministry of Commerce.

The Ministry has triggered off emergency mechanism and forged task forces to cope with the issue and required the related Chinese companies to dispatch working groups to deal with the aftermath.

Hu concerned over safety of Chinese in Pakistan

Chinese President Hu Jintao showed deep concern for the safety of the Chinese engineers in Pakistan after the deadly incident.