Cheney: 'You Can't Blame Anybody Else'
(AP)
Updated: 2006-02-16 08:47
Vice President Dick Cheney took full blame Wednesday for shooting a hunting companion, calling it "one of the worst days of my life," but he was defiantly unapologetic about not publicly disclosing the accident until the next day.
"You can't blame anybody else," Cheney told Fox News Channel in his first public comments since the accident on a private Texas ranch Saturday. "I'm the guy who pulled the trigger and shot my friend."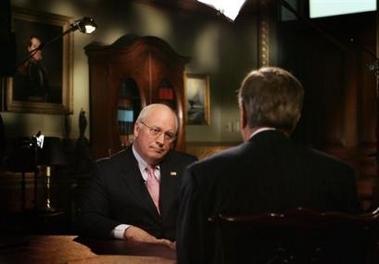 This photo provided by the White House shows Vice President Dick Cheney, left, talking with Brit Hume of Fox News in his office in the Eisenhower Executive Office Building in Washington, Wednesday, Feb. 15, 2006. [AP]
Cheney said he had had a beer at lunch that day but nobody was drinking when they went back out to hunt a couple hours later. Law enforcement officials have ruled out alcohol as a factor.
The vice president has been under intense political pressure to speak out about the accident, which has become a public relations embarrassment and potential political liability for the White House. Senior advisers to President Bush worried that Cheney's silence had suggested a possible cover-up, and Cheney acknowledged that he delayed an announcement over the advice of Bush's press advisers.
"We really didn't know until Sunday morning that Harry was probably going to be OK, that it looked like there hadn't been any serious damage to any vital organ," he said. "And that's when we began the process of notifying the press."