Haitian government orders election review
(AP)
Updated: 2006-02-15 10:39
Related: Haiti's frontrunner rejects vote results
Haiti's interim government ordered a review of election results Tuesday, hours after the leading presidential candidate ! who appeared set to fall short of a first-round victory ! claimed the count was marred by "massive fraud" or errors.
The order is the first formal step to investigate possible fraud or irregularities committed during last week's vote and the counting process.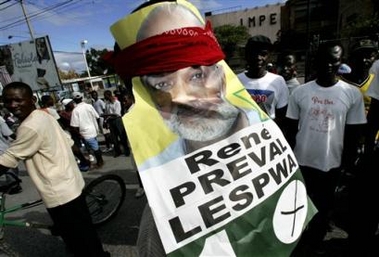 A supporter of leading Haitian presidential candidate Rene Preval walks with his campaign poster fixed with a bandanna through a street of Port-au-Prince, Tuesday, Feb. 14, 2006. With about 10 percent of last week's vote yet to be announced, leading presidential candidate Rene Preval has just under the 50 percent required to avoid a runoff. Preval urged calm Tuesday from his many angry supporters who virtually paralyzed Port-au-Prince a day earlier. [AP]
"The government wants to make sure that everything with the process is correct," interim Interior Minister Paul Magloire told The Associated Press.
Earlier in the day, leading presidential candidate Rene Preval promised to contest the results. Preval also urged supporters to protest peacefully a day after at least one pro-Preval demonstrator was killed and followers elsewhere occupied a hotel.
Preval said official results "do not correspond with reality."
"We are convinced that either massive fraud or gross errors stain the (electoral) process" Preval said.
The review will be conducted by a commission comprised of the president's office, the electoral council and Preval's party, said Michel Brunache, chief of staff of interim President Boniface Alexandre.
Magloire said the commission will be formed in the coming days and that the review of the voter tally sheets "will be very fast."
The electoral council will not release more election results pending the outcome of the review, Brunache said.
Tens of thousands of Preval's backers, most from Haiti's majority poor, have flooded the streets of the capital since Sunday to protest what they called a rigged election.
Local Telemax TV news Tuesday night showed smashed white ballot boxes in a garbage dump, with wads of ballots strewn about. Ballot after ballot was marked for Preval.
U.N. spokesman David Wimhurst said the ballots could have come from any of nine polling stations across the country that were ransacked on election day, forcing officials to throw out up to 35,000 votes. At least one voting center was destroyed by people tired of waiting in line, others were destroyed by political factions, he said.
Wimhurst said it was possible someone dumped the ransacked ballots to create an appearance of fraud.
White U.N. armored vehicles on Tuesday shoved aside some roadblocks of junked cars, old refrigerators and other debris that were laid across the streets of the capital a day earlier. Businesses were shuttered, although street markets bustled with shoppers.
The most recent election results, posted Monday, showed Preval had 48.76 percent of the vote with 90 percent of ballots counted. He would need 50 percent plus one vote from the Feb. 7 election to avoid a March runoff.
"If they publish the results as they are now, we will oppose them, the Haitian people will also oppose them, and there will be protests," Preval told reporters.
Wimhurst said there was no evidence of fraud. The U.N. provided security for the vote and helped ship election returns to the capital but is not directly involved in counting ballots.
An official with the European Union, which has election observers here, declined comment on the vote count.
"The situation is volatile and difficult, and we do not want to make any declaration," she said on condition of anonymity because she was not an official EU spokesperson. The Canadian observer group also refused to comment.
The constitution indicates that a challenge would go to the Supreme Court, but the interim government recently decreed that complaints should go to the electoral commission ! the same body that is releasing the results.
The U.N. said pro-Preval demonstrations were preventing election personnel from going to work and many counting centers had closed because of security concerns.
"I ask the Haitian people ... to be mature, to be responsible, to be nonviolent," Preval said Tuesday.
The U.N. Security Council urged Haitians to respect election results and refrain from violence, and it extended the U.N. peacekeeping mission in Haiti for six months, until Aug. 15.
Some 7,300 U.N. troops and 1,750 international police are in the country under Brazilian command, helping maintain order. The U.N. mission replaced a U.S.-led force that arrived after an uprising toppled President Jean-Bertrand Aristide in February 2004.
A popularly elected government with a clear mandate is seen as crucial to avoiding a political and economic meltdown in the Western Hemisphere's poorest nation. Gangs have gone on kidnapping sprees and factories have closed for lack of security.
At least one protester was killed Monday. Witnesses said U.N. peacekeepers opened fire. Wimhurst first denied that peacekeepers fired any rounds, then later said they had fired in the air and that someone else fired shots afterward in the same area. Preval supporters also stormed into a luxury hotel in Petionville on Monday.
Preval, a former president, urged his supporters to "respect people's belongings" and to be on guard against provocateurs.
A runoff would pit Preval against second-place finisher Leslie Manigat, also a former president, who received 11.8 percent of the vote, according to preliminary results.
Of the 2.2 million ballots cast, about 125,000 have been declared invalid because of irregularities, raising suspicion among Preval supporters that polling officials were rigging the election.
Four percent of the ballots were blank but were still added to the total, making it harder for Preval to obtain the margin needed to avoid a runoff.