Chinese pair deliver gutsy performance
(Reuters)
Updated: 2006-02-14 08:34
TURIN, Feb 13 (Reuters) - Zhang Dan and Zhang Hao claimed China's first-ever Olympic figure skating silver medal along with a gold for courage on Monday following a display of bravery seldom seen on an ice rink.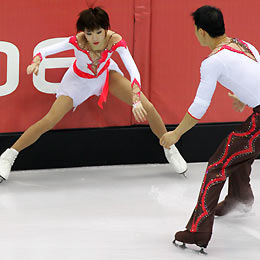 Zhang Hao (R) looks at Zhang Dan from China after she fell during the figure skating Pairs Free Skating at the Torino 2006 Winter Olympic Games in Turin, Italy, February 13, 2006. Zhang Hao and Zhang Dan won the Silver Medal. [Reuters]

The last couple to step onto the Palavela ice and the last skaters with a chance at ending Russia's 42-year domination of the pairs event, Zhang and Zhang got their routine off to flying start only to have it come all undone with a spectacular spill that drew gasps from the sellout crowd.

Attempting the rarely seen quadruple Salchow, Zhang Dan landed in the splits and had to stop after sliding into the boards.

Struggling to her skates, Zhang Dan was helped off the ice by her partner and after consulting with coaches and officials the 20-year-old gingerly returned to the ice five minutes later.

The pair continued their skate to the thundering approval of the crowd.

"We are challenging the extreme limits of what a human being can do," said Dan Zhang. "I had to turn four revolutions in the air and a huge distance and then I hit the boards.

"You can only imagine how painful that would be.

"We were still empty in our minds. When the music started again we didn't know where to start our elements but we gave a gesture and then we carried on.

"Gradually after we restarted we became more-and-more clear in our minds how to do these elements.

"We wanted to go on."