Taiwan's Chen mulls axing reunification body
(Reuters)
Updated: 2006-01-30 14:48
Taiwan's leader Chen Shui-bian said on Sunday he was considering scrapping guidelines on reunification with mainland and the body that created them.
Scrapping the guidelines and council, which was set up in 1990 and was formerly the island's top policy-making body on the crucial question of reunification, is likely to be Chen's pushing for independence.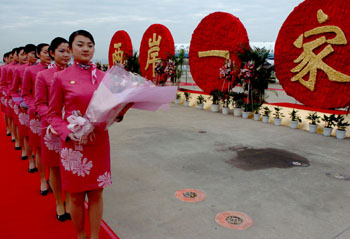 Attendants of Xiamen Airlines are bidding farewel to Taiwan compatriots heading for Taiwan for the Spring Festival, which falls on January 29 this year. [Xinhua]


Chen's statement drew a strong response from the main opposition Nationalist party, which favours eventual reunification, with Chairman Ma Ying-jeou saying there would be a price to pay for breaking a promise.

"Chen has previously pledged in all sincerity and seriousness there was no problem over the scrapping of the 'National Unification Council' and 'National Guidelines.'"
Beijing has refused to deal with the pro-independence Chen and his administration since his election in 2000 and not ruled out war if the island seeks formal independence.

While Beijing is yet to respond to Chen's statement, Monday's People's Daily carries an editorial on cross-strait relations.

The editorial marks the 11th anniversary of a speech by former leader Jiang Zemin, in which he set forward an eight-point proposal for solving the Taiwan issue peacefully, but without ruling out the use of force.

"The activities of 'Taiwan independence' splitist forces have continued to intensify, which has seriously damaged the stability and development of cross-strait relations," Xinhua cited the editorial as saying.


"There are people urging that the 'National Unification Council' and its guidelines be abolished. I think now is the appropriate time we must seriously consider it, take a good look at it," Chen told supporters at a New Year rally in southern Taiwan.

There was no immediate comment from Beijing.

Former Taiwan leader Lee Teng-hui formed the council in 1990, which devised the 'National Unification Guidelines' -- a blueprint for reunification -- to convince that he was committed to reunification.

Creation of the council and guidelines paved the way for landmark fencemending talks between the two sides in the early 1990s. But the body has been dormant since Chen took office.

"This is an extremely serious topic as everybody knows all that's left of the council is a name," Chen said.

"This kind of council and its representatives seek a reunified China, and under the guidelines, accepts the 'one China' principle. These are all problems."

Acceptance of the "one China" principle -- that Taiwan is part of China -- is a precondition Beijing has set for any official talks with Taipei. Chen rejects this principle.

By dissolving the council and the guidelines, Chen would break a promise he made upon his inauguration to not to do so, a pledge he made alongside another not to declare independence.