Koizumi: Japan a peace-loving country
(chinadaily.com.cn)
Updated: 2006-01-19 07:54
Japanese Prime Minister Junichiro Koizumi claimed Wednesday that his country has reflected on its militaristic past and is now a peace-loving country, the Associated Press reported.
The comment is sure to draw resentment from China and South Korea, both victims of Japanese invasion in last century, which thought Japan has not properly atoned for wartime atrocities.
"In its path to a modern nation, Japan experienced war," said Koizumi when addressing supporters at the annual convention of the ruling Liberal Democratic Party in Tokyo.
"But in the 60 years since (World War II), we have built a prosperous nation based on a reflection of that war,'' he said.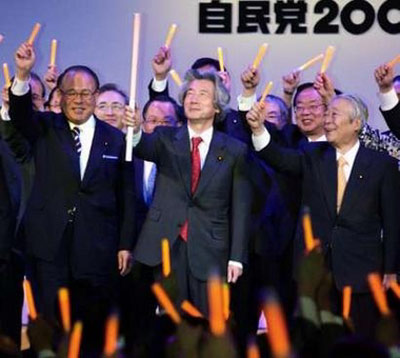 Japan Prime Minister Junichiro Koizumi (C) waves a penlight with his Liberal Democratic Party Secretary-General Tsutomu Takebe (L) and senior LDP member Mikio Aoki during an LDP convention in Tokyo January 18, 2006. [Reuters]
Shrine visit urged
Also during the party gathering, the LDP urged the party members to continue the visits to the Yasukuni Shrine -- a practice which has soured Japan's relations with neighboring countries, according to the Xinhua News Agency.
Keeping the practice alive is to "show condolences to the dead that laid foundation of the countries and to demonstrate the resolution of not engaging war and realizing perpetual peace." said a LDP guideline adopted at the meeting.
The Tokyo-based shrine houses 14 Class A war criminals and is considered by Asian countries as a site of glorifying the militarism.
Koizumi has paid five annual visits to the shrineŁ¬angering the Asian neighbours, especially China and South Korea.
His latest visit in October 2005 sparked outrage in the two countries, where many believe Japan has never truly shown remorse for offenses committed during its rampage through Asia that culminated in World War II.
Koizumi's likely party successors Chief Cabinet Secretary Shinzo Abe and Foreign Minister Taro Aso are both staunch supporters of the Yasukuni visits by Koizumi who repeatedly indicated his will to step down when his term ends in September.
Japan's prime minister is chosen in a parliamentary vote. The leader of the LDP is almost certain to become prime minister as the LDP returned a huge majority to Parliament's powerful lower house at national elections last year.